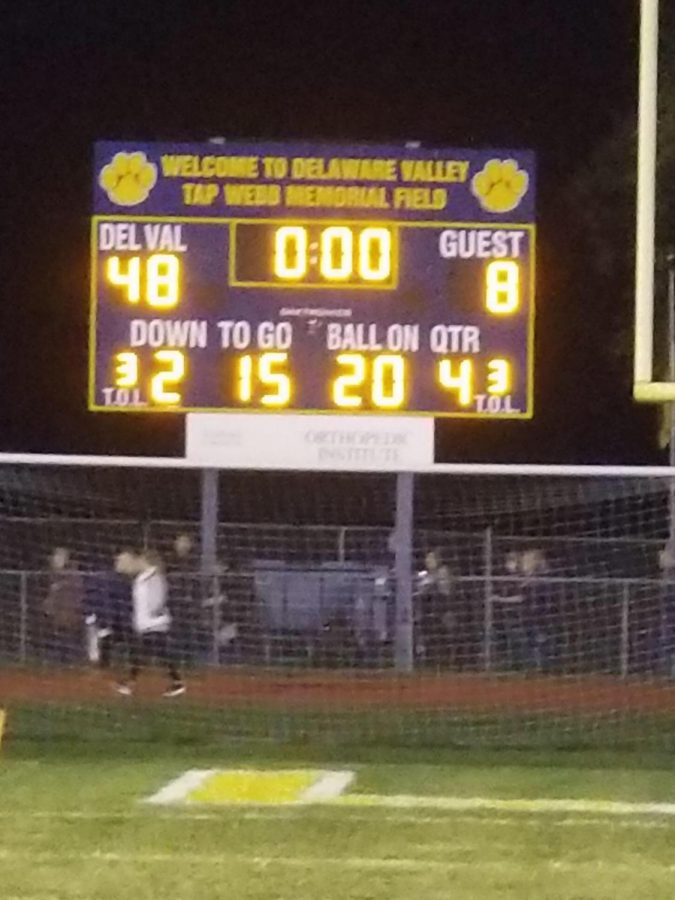 @delvalfootball
Going into last Friday night's contest, Del Val was looking to secure a win against a hot North Plainfield Canucks team that had scored 86 points in its previous 2 games. A victory would go a long way towards clinching a playoff spot and giving the Terriers a home game in the NJSIAA South Group 2 bracket as well an above .500 record.
The Terriers wasted no time getting the offense going, as Justin Carney broke off a long 47-yard run for a touchdown early in the 1st quarter and made the PAT to give them an early 7-0 lead. Following a forced fumble and recovery by the defense, Carney made a 24-yard field goal to extend the lead to 10-0 before Tylor Blake added a defensive touchdown on a 50-yard pick-six. The touchdown and PAT gave Del Val a 17-0 lead, which held through the end of the 1st quarter.
Blake scored his 2nd TD of the game and his 1st on offense when he rushed for 1 yard to extend the deficit for the Canucks to 24 points. Carney added another field goal, this time for 23 yards, to make it a 27-0 game. Before the end of the half, Logan Blake connected with his brother for a 30-yard touchdown reception, and Tyler Holzworth took it to the house with under a minute left in the quarter for a 66-yard touchdown to add insult to injury after a second fumble recovery by Del Val's defense. This touchdown gave the Terriers a 41-0 lead going into halftime, which was tied for their second-largest point total in a single half on the year.
The second half was rather quiet compared to the 1st, as no points were scored in the 3rd quarter as Del Val continued to shut down a dangerous North Plainfield offense. Aydan Thomas scored a 57-yard rushing touchdown at the beginning of the 4th quarter to make it 48-0 after the PAT was made, which is where the scoring would stop on an electric night for the Terriers offense.
Naji Campbell would add a 3-yard touchdown run and 2-point conversion for the Canucks to help avoid the shutout on the road and make the score 48-8, which would hold as the final score as Del Val improved its record to 5-2 and snapped a 2-game losing streak, while also stopping North Plainfield's 2-game winning streak in the process.
Del Val's defense once again proved to be a brick wall for opposing offenses, as it recovered 2 fumbles along with an interception and 5 forced punts. The offense snapped out of its slump on Friday as well, and the team will look to finish the season tomorrow on the road against Governor Livingston (0-7) before hearing the results of the playoff seeding on November 3.