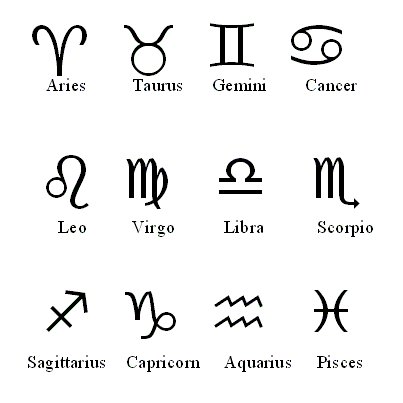 Photo via Wikimedia Commons under Creative Commons license
Aquarius (January 20 – February 18)
The year 2020 will bring lots of opportunities to help others. Use out-of-the-box thinking to help others in need and you will find that you will be successful. However, you must work on your consistency to keep things from falling apart.
Pisces (February 19 – March 20)
You will find someone in the new year! Whether it's a partner or a best friend, new relationships will pop up. This year will bring fun surprises, so look out for them and be present in the moment, or you will miss out on amazing opportunities!
Aries (March 21 – April 19)
You will acquire much personal and professional success. The new year is lucky for those born within these dates. You will experience a surge of energy, as new opportunities show up in front of you. Mars and Venus will be in rotation, bringing about a "romantic revolution." The first few months will associate your relationships with personal development and public visibility.
Taurus (April 20 – May 20)
This year will be a year of financial progress and reward for hard work. Having an understanding of the repercussion of rushing into things will help you gain financial success. This hard work will pay off, whether it be rewards, recognition, or a promotion at work. However, the ruling planet of Taurus (Venus), is going into retrograde which will bring down the high of confidence from the past few months. The retrograde, starting Wednesday, May 13th and ending Thursday, June 25th, may bring feelings of confusion and an inability to communicate your feelings. In order to combat the feelings of distress, focus on self-care. Avoid plastic surgery and big hair transformations during this time.
Gemini (May 21 – June 20)
This year will be one of greater self love but beware of overthinking. Don't force yourself into things, embrace the different sides to yourself and be open to the many new opportunities that the year will bring.
Cancer (June 21 – July 22)
You will be the voice of reason in 2020. While others around you are panicking, now would be the time to step up and make some major decisions! 2020 will be for purging, so remove yourself from draining and toxic relationships. The year will bring new opportunities, leaving no room for people who suck you emotionally dry.
Leo (July 23 – August 22)
2020 will be a serious year, at least for relationships. Now is the time to take a good, hard look at your commitment to others and evaluate if you're getting what you need from those in your life. New relationships will also step up into your life as well. Pay attention to those around you, because they might just be your newest addition!
Virgo (August 23 – September 22)
2020 will teach you to take responsibility for your own happiness. Now is the time to practice letting go of fears and judgements, and living your life to the fullest. Let your inner child roam free as you explore this new freedom. New health and wellness trends will come in to play, but make sure to prioritize the more important things before changing your daily routine.
Libra (September 23 – October 22)
2020 will be an easier than normal year for you. You'll have fewer responsibilities and more time to do the things you like. Your hobbies will bring you more joy, and you'll have more control over your love life. There's a small chance of conflict in your relationship but a higher chance of harmony. Overall, the year will be good for you and your relationships.
Scorpio (October 23 – November 21)
This is the year for exploring inner happiness. You will learn to take responsibility for your thoughts and words, being mindful of their power to create or destroy. Positive thinking will have a lot of power in your life, not only by repressing unpleasant emotions, but also by choosing to see them in a new light.
Sagittarius (November 22 – December 21)
2020 will bring more confidence, and you'll feel inclined to resolve any problems from last year. This year is a great time to cleanse the past and look forward to the new year. You need to be patient, social and daring to get to your goals. If you start trying new things, you are likely to meet lots of new people this year. 
Capricorn (December 22 – January 19)
2020 will be a dose of reality, as you might learn that even though you're confident and independently strong, there is only so much that you can handle on your own. As you begin on your personal metamorphosis, you will be able to find meaning within difficulties and trust what's happening is for the greater good. Throughout this year, make sure to take care of yourself so that your body, mind and soul will be able to sustain you.