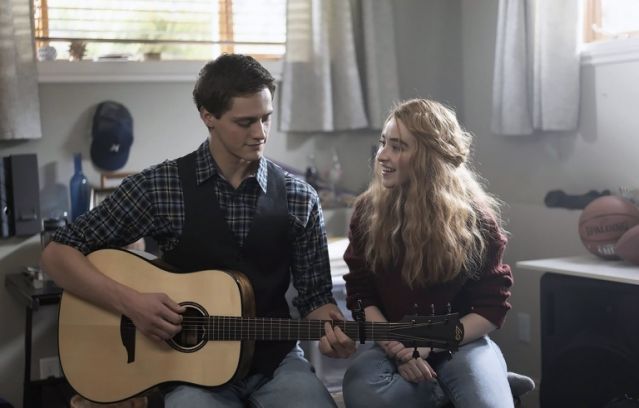 Photo via Disney
*WARNING: SPOILERS TO FOLLOW*
Do you have a movie that makes you cry every time you watch it? If not, Disney+ just released a new one, and it is sure to leave you sobbing.
Clouds is based off the true story of Zach Sobiech, a teenager with terminal bone cancer. The movie summarizes his last few months alive, as Zach tries his best to live a normal life despite his excruciating situation.
During this time, Sobiech and his friend, Sammy, decided to write a song titled "Clouds." After uploading the song to YouTube, it becomes a viral hit heard all over the radio. The lyrics were inspired by his plane ride home from France. Viewers often hear these lyrics, which give them the feeling of being unstoppable: "We'll go up, up, up but I'll fly a little higher/go up in the clouds because the view's a little nicer."
This movie shows viewers how no one should take life for granted and that everyone should live life to the fullest. Despite Sobiech's situation, he did whatever he could to live his life the best he could. He wrote songs, went to school, found a girlfriend, and hung out with his friends. He even made it to The Metro where he got to perform one last time in front of his peers. Keeping the mindset of "a glass half full" helped Zach live a more successful life.
In Clouds, there are many heart-breaking moments. From the clips of Zach saying goodbye to his friends and family, to him slowly dying on the couch, there are many scenes where a good cry would be necessary.
According to psychologytoday.com, the hormone oxytocin is released when we watch scenes such as the ones in Clouds, making us care about strangers. During a sad movie, oxytocin is imperfectly tuned. Whether it is based off a true story or not, people will still be empathetic and show their emotions towards those characters.
Crying during a movie indicates a lot about one's personality. As reported by littlethings.org, you could potentially have 9 different traits. From changing the world to feeling a great deal of empathy, you could be crying for many more reasons you might not even know about. Click the link to learn more.
So next time you cry during a movie, don't feel embarrassed!