Flogging Molly rocks Montclair, NJ

Flogging Molly, a Celtic-punk band, recently performed a concert in Montclair, New Jersey on February 28, 2019. Flogging Molly is a celtic-punk band from California, but the lead vocalist, David King, is from Ireland. They have been actively playing music together since 1997, and are about to release a new album. They are currently on their Life is Good tour in America. I had the chance to get tickets and go see them live in The Wellmont Theater, and it was one of the best concerts I have ever gone to.
My heritage is Irish and Scottish, so I grew up listening to celtic folk and rock music, although I never got too into Flogging Molly until these past few months. I heard a lot about them from my father, who listened to their music frequently. I would definitely recommend this band, however, if you have a hard time understanding irish accents or don't like punk-folk fusion music, you may not like them.
The night started right on time at 8:00 p.m. with the opening band, Lucero. I am not into country music, and that may be the reason I wasn't too into this band. The band was very active, jumping up and down and playing proudly; however, that comes at a price. The band's music was extremely loud, and I could barely head the lead singer. I felt their set was too long, lasting for a full hour. It was loud, borderline obnoxious, and too long for this gal.
It took the roadies 20 minutes to set up for Flogging Molly, which isn't that long when you are taking selfies and playing games on your phone. It gave me enough time to go stretch out from the cramped seating (which is rare for the band to play in a seated venue) and get back to my seat. The band started and the screaming of irishmen and women throughout the venue started. I did not mind the crowd's enthusiasm as I could still hear King's voice. The song selection was amazing and the band's stage presence was incredible. They played a total of 17 songs including some of my favorites: "Crushed," "Rebels of The Sacred Heart" and "The Days We've Yet to Meet." In the middle of the concert, there was a 5 minute break featuring bassist Nathen Maxwell shredding a sick guitar solo during "Devil's Dance Floor."
I highly enjoyed my experience, and I would definitely go again if I can.  I give Flogging Molly a 10/10. If you think you'd like this band, you can check out their website: https://www.floggingmolly.com
About the Contributor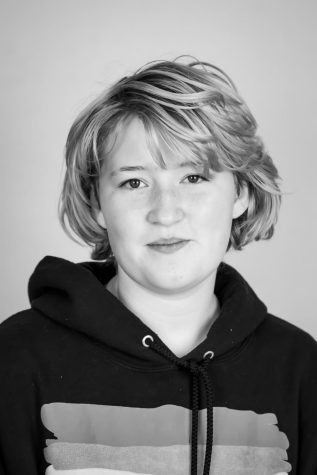 Sarah Nerwinski, The Delphi Editor
Sarah Nerwinski is a senior at DVRHS, and she is the creator and voice of the Del Val's first podcast, Dark History.  She is also a writer for The Delphi...