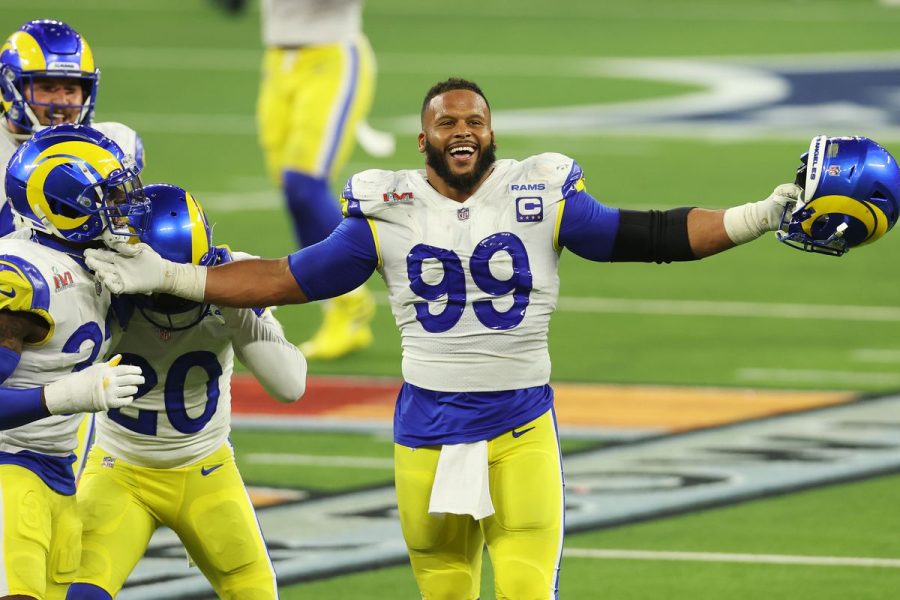 Elaine Thompson
Super Bowl LVI was played Sunday night in Los Angeles, and we got a game that, if it was made a movie, we wouldn't believe it.
A close game throughout, it seemed like the Bengals were destined to finally win a Super Bowl, but Matthew Stafford led a 15-play drive in the final minutes in the 4th quarter to hand the Bengals another heartbreaking loss.
Super Bowl MVP: Cooper Kupp, I guess
Cooper Kupp had a good game, but not a great one. He had two touchdowns, and Stafford was having a decent to bad game before the final minutes of the 4th quarter.
Honestly, Burrow is the MVP. He played better than anyone on both sides. It's not his fault that his offensive line sucks and Aaron Donald is a human plow. I don't think I'll forget Burrow's face after he lost the Super Bowl ever.
Other than Kupp or Burrow, I'd say the best man in the stadium was Cris Collinsworth. He was at the top of his game, which means he was unintentionally hilarious. He was saying stuff like. "Al, this Aaron Donald really likes football," or "This is a guy who really bought into the team mentality." If Al Michaels leaves NBC, I will definitely miss Michaels leading Collinsworth into saying dumb stuff just so the viewers can laugh at his unintentionally funny one-liners.
The game was like a movie up until the end, which left me, and many other fans, with a bad taste in our mouths. A kind of stale taste mixed with Pepsi and disappointment. This was the Bengals' year, and everyone, including myself, thought for sure Joe Cool would lead the Bengals down the field for the win.
But something strange happened. He didn't carry them to the win. His offensive line collapsed, and Aaron Donald got to him before he could make a play. This game had the feel that something special was brewing, something we would talk about for years, but instead something happened that left fans feeling a bit annoyed.
Super Bowl LVI was good, not great. Not top 10, probably not 20, but still pretty okay. If the Bengals had found a way to win the game in the final minute and a half then I'd be singing a different song, but the anti-climatic ending hurt the game's legacy.
The most memorable part of this game (which could've been Joe Cool triumphantly leading the Bengals to their first Super Bowl win, but…) was probably the halftime show.
Watching Dr. Dre, Snoop Dogg, Mary J. Blige, Eminem and Kendrick Lamar was special. For me this was the second best halftime show behind Prince in the rain back in '93. The 50 Cent cameo was good, but he looked a little winded while he spat his verses.
People may not know that Dre found all these artists when they were just starting out, and watching the NFL finally get a halftime show right felt good. Everything went right during the halftime show, it was going so well I think they could've pulled off doing a hologram Tupac when Dre started singing "California Love."
Taking out Collinsworth's unintentionally funny commentary, the halftime show, the what-ifs and the "meh" commercials, this game was memorable. I might be contradicting myself, but the 15-play drive will live on, the Burrow what-if drive at the end will make conspiracy-nuts go wild with theories and Kupp is the first receiver to win Super Bowl MVP since Julian Edelman won in 2019.
Going away from the game again, here are my top 3 commercials: the Larry David cryptocurrency ad, The Sopranos Chevy commercial, and the Dr. Evil General Motors commercial. The Larry David commercial was pretty good, hearing The Sopranos theme song as we slowly realize Meadow is driving the car on the New Jersey turnpike before parking the Chevy and meeting up with her brother (in the show) AJ was great and watching Dr. Evil on screen one more time was hilarious and kind of ironic. In Austin Powers 2, Dr. Evil made fun of movies "selling out" with excessive product placement, but I think I'll live.
In all, the Super Bowl was fun; anti-climatic, but still fun. Burrow will be back (or at least that's what they say), Stafford is a guaranteed Hall of Famer (even though he isn't as of this moment) and Sean McVay punched his ticket to a fat contract extension and coaching bragging rights.