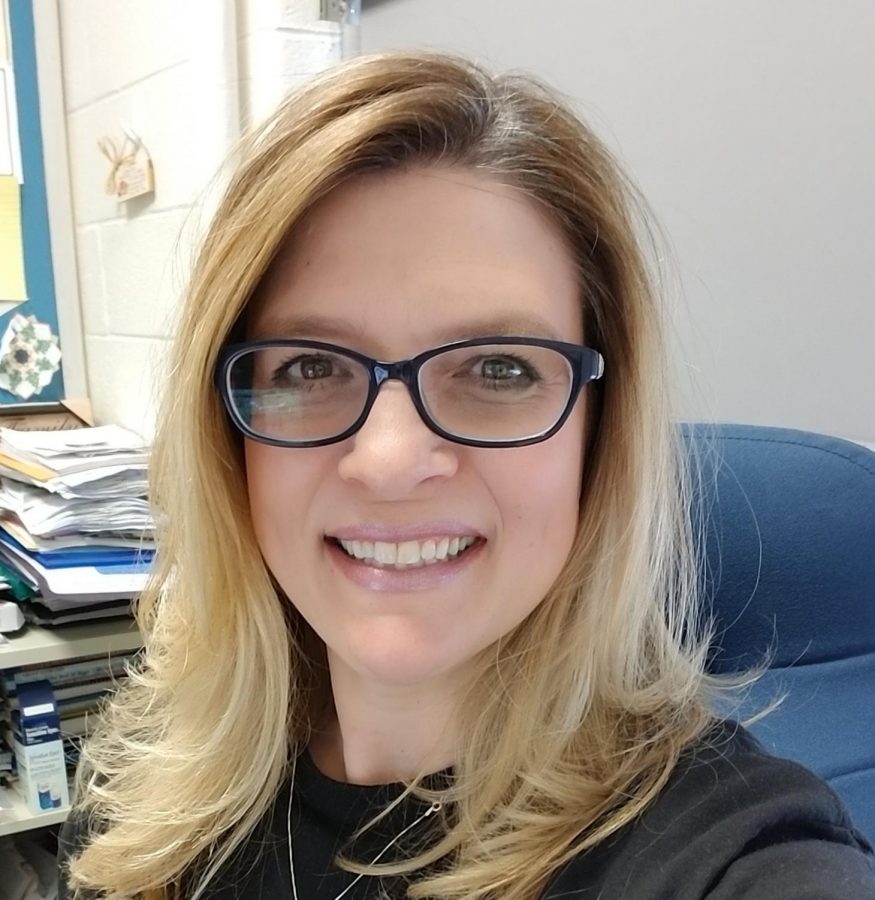 Getting to know Mrs. Eckhardt
Mrs. Eckhardt is a mother of three, a passionate Eagles fan, and an outlet for many students at Delaware Valley.
Eckhardt is a counselor specializing in helping those who suffer from drug and alcohol abuse, but she is also a resource for students going through any issue whatsoever. Mrs. Eckhardt's three children, two sons and a daughter, are attending college. She also has two pets, Larry, the "Dalmatian kitten," and Lacey, a sweet and loving German Shepard.
Mrs. Eckhardt refers to herself as a "football freak" because of the passion she has for the sport. She has participated in fantasy football for 18 years. If she could do anything on the weekend, she would go to a Notre Dame football game or to watch her favorite NFL team, the Eagles.
Mrs. Eckhardt has had the passion for helping others in need since her freshman year of high school. She attended Phillipsburg High School and met many people struggling with family issues and/or personal problems. "If you love someone unconditionally and really care about them and support them, then you can help them become a better person," Eckhardt said. However, after studying her profession for many years, she learned that the people she helps must want to internally change in order for the help to be long-lasting.
Mrs. Eckhardt first started her journey as a drug and alcohol counselor after her first four years of college in a halfway home based in Allentown, Pa. After working in the home for five years, she decided to go back to school for her Masters degree in Counseling Psychology and Human Services. Unfortunately, she realized that degree wouldn't help her with what she really wanted to do, which was to help children.
She then went for her SAC certification (Student Assistant Counselor) and was able to start working soon after. She has worked at multiple public and private schools all over New Jersey, and she landed at Del Val for five years ago. Working in many different surroundings, she believes Delaware Valley has been the best environment for her.
Mrs. Eckhardt feels very comfortable in this school and feels that the administration supports what she does. In many schools, if cuts must be made, counselors are usually some of the first to go because mental health isn't always taken as seriously as academics. However, Delaware Valley focuses on its students' well-being and backs Mrs. Eckhardt with what she does. Mental Health and drug/alcohol use is a serious problem in today's world, and having someone to talk to about these is very beneficial.