Climate change is only going to get worse before it gets better, so in honor of Climate Week, awareness is being brought to schools not only in New Jersey, but also around the country.
At Del Val, the AP Environmental Science teacher, Stacy Grady, has tried to spread awareness of climate change for several years.
"Climate, by definition, is the long term weather," said Grady. "It's the patterns of temperature and precipitation over the course of time. We're talking long term, on the order of decades or centuries  rather than month to month or year to year."
Society needs to understand the difference between global warming and climate change, and how global warming is slowly affecting that change. This threat needs to be addressed because it will affect all continents. 
"The other thing we have to deal with, when it comes to global warming is the fact that the ice that's on the continents, glaciers in Greenland, Antarctica, Alaska and Northern Canada, melt," said Grady. "All that water that was frozen now runs into the ocean. So it's a two pronged issue; you have the oceans getting warmer so the ocean volume is increasing, but you are also adding more water molecules to the ocean."
Rising water will be detrimental to farm lands and their crops, which will lead to global food shortages. 
"One thing that is going to happen if things flood, you're going to flood crop land," said Grady. "If temperatures get too warm, nothing is going to grow."
Crops need certain temperatures and climates to sustain their production before there is no more food to be provided, due to extreme weather. 
"Extreme weather is becoming the new normal because of the variability and unpredictability in what's going on in the atmosphere," said Grady. "So we get periods of drought, we get periods of rain, we get periods of really intense heat and really intense cold."
Extreme weather is becoming the new normal because of the variability and unpredictability in what's going on in the atmosphere. So we get periods of drought, we get periods of rain, we get periods of really intense heat and really intense cold.
— Stacy Grady
Although people worldwide will be affected by climate change, the U.S. east coast will be significantly more vulnerable. In the future, states like Florida, being surrounded by water, will no longer exist. 
"If all the ice on the Earth were to melt, the continental ice, the bottom third to half of Florida would be under water," said Grady.
If Florida were to be submerged under the ocean, the nation would see a change in the states' population. People who previously lived in Florida would flee to another state, leading to over population.
Northern states like New Jersey have experienced devastation along the coastline in the past, like that of Hurricane Sandy. 
"After Hurricane Sandy came through, ten years ago now, they put laws into place along the shore, that if your house has a mortgage, you have to build it up on pilings," said Grady. "They can also build sea walls to keep the ocean out."
The government is being proactive in protecting the coastline. Places on the coastline rely on tourism season to gain as much income as possible. Since these businesses are only open seasonally, they rely on the summer season. If global warming were to cause the rise of water levels and to destroy buildings and businesses, the owners will not be able to support their families.
Other places in New Jersey are being proactive to protect the environment, including the wetlands.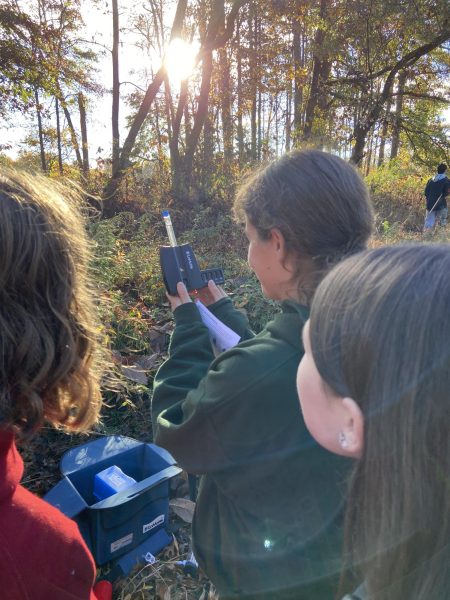 "In Jersey City and Hoboken, they are trying to figure out how to preserve what's there, but they're also trying to do more natural things, like wetlands are supposed to be natural buffers," said Grady. "They absorb the brunt of storms to protect inland ecosystems and property. The wetlands do a good job of keeping the floodwater from getting to where people are. A lot of this plan is looking at adaptation."
While the coastline will be damaged, the wetlands, which are vital to survival of ecosystems, will be too. Since they are able to absorb a natural amount of water, having an abundance of water will disrupt these ecosystems.
"If you look at a naturally functioning ecosystem, it does a lot for us: pollination, cycling of nutrients, like water and oxygen," said Grady. "If the ecosystem was to be degraded, we will wind up losing the ecosystem. It's harming us in a number of ways."
Not only is the human population seeing abnormal changes, but plants and animals are also being affected. Animals have specific temperatures, food sources and set behaviors that will all have to change. 
Del Val senior, Brooke Regep, has been expressing her thoughts on climate change throughout the school.
"Climate change will have less effect on the habitats of animals that live closer to the equator, as they will move slightly north to where it is just as warm," said Regep. "But the animals that live at the poles cannot go anywhere that's colder, so they are trapped."
Not only will the animals be trapped, but they will also act unnaturally.
"One thing we are finding is that the typical behaviors of animals, like in migration, they aren't migrating at the same time due to increase in temperatures," said Grady.
When animals change their migration time, it influences other environmental aspects such as pollination and the food chain. This chain reaction will make animals have to adapt, or these creatures will start to die off around the globe.
"You also have organisms that can't adapt," said Grady. "They have a very narrow niche, and they either have to adapt or die."
Even slight variations in temperature can cause even the smallest of organisms to possibly become extinct.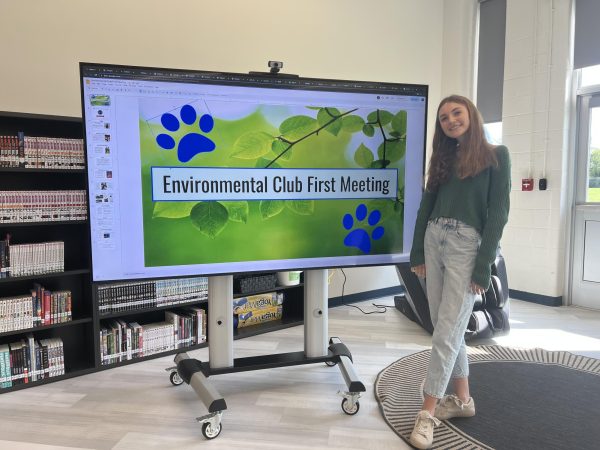 Del Val's Environmental Club president, Jamie Markowski, is helping to slowly better our environment along with the rest of the club.
"In the spring, we are going to have a 'Tree-Plenish Program' sale where we are setting a goal to sell enough tree saplings to the community in order to replenish the amount of paper our school used last year," said Markowski. "The last time we did this, in 2022, we sold over triple our goal, and we hope for the same results in the spring."
The Environmental Club works hard to complete other environmental protection projects such as roadside clean-ups and monitoring local water levels. 
Understanding climate change is an opportunity for society to work together and do its part in helping slow down this global issue. The world should be working in unison to take small steps in preventing further damage to the planet. Humanity needs to make a change now before it is too late.
"I have a philosophy that's the idea of sustainability," said Grady. "The current generation has a responsibility, moral and ethical responsibility, to do what's best for the future."