Random questions with Ms.McCarty
Cheerleading coach Ms. McCarty speaks about life at and away from Del Val
Hang on for a minute...we're trying to find some more stories you might like.
Ms. McCarty started off her journey at Delaware Valley in 2017 as a Special Education teacher and assistant coach for the varsity cheer squad. 
Ms. McCarty, one of Del Val's cheerleading coaches, loves cheerleading so much that her favorite childhood memory is about cheer. "We won Nationals in 2011 down in Florida. I cheered for an all star team that used to be called Rocket Elite Allstars. It was my goal since I was in 5th grade and I finally got it when I was 18," McCarty said.
After cheering for most of her childhood, McCarty graduated high school and went to community college for two years before transferring to The College of New Jersey. There she double-majored in Special Education and Sociology. "I graduated in 2017 with my masters in Special Ed and a bachelors of science," McCarty said.
If  Coach McCarty had to choose a career path other than teaching, she would choose to pursue a career in forensics. "I wanted to go to school for forensics actually. I wanted to do crime scene work, and then I realized I'd have to be in school for seven years. Then it turned out I was in school for seven years, but I like teaching a lot too." 
Some interesting facts that you may not know about Ms. McCarty is that if she could dye her hair any color, it would be pink. She loves pink as much as she loves warm weather. "Florida. I like the warm. You can't be upset in warm weather," McCarty said. One day, Ms. McCarty hopes to travel to Ireland. She has never been out of the US or off of the East Coast. Ms. McCarty is Irish and hopes to one day learn more about Irish culture. 
At home, McCarty takes care of multiple pets. "I have a puppy. He's a morkie. His name is Ronan and he's, like, 13 pounds. He's super tiny. He's my favorite, and I have three fish." Coach also enjoys country music. "It calms me. I really love Chris Stapleton and Brothers Osborne." In fact, she loves country music so much that she has been to the CMA Fest. "I went to CMA fest, have you ever heard of that? Country Music Awards. They have a show on TV and then they have a three day festival in Nashville. I went there three times."
Besides loving her pets and country music, she also likes the beach as a getaway spot. "We go to the Outer Banks every year. That's the only vacation I've ever been on…I like the beach," McCarty said.
High school has a special place in McCarty's heart, which is part of the reason why she chose Del Val as her workplace. "High School was honestly the best 4 years of my life, so when I saw the opening to work at a high school in Special Ed, I was like, 'I gotta try it.' Then I got the job and it was really exciting."
"
High School was honestly the best 4 years of my life, so when I saw the opening to work at a high school in Special Ed, I was like, 'I gotta try it.' Then I got the job and it was really exciting."
— Ms. McCarty
Having a job wasn't going to stop her passion for cheerleading, however. "I've been cheering since I was four, so it's just always been my life. I was a volunteer coach, and then I ended up assisting coaching last year and this year," McCarty says. Coach's favorite aspect of Del Val is the people. "I just think everybody here is so kind. They're just so sweet and everyone is so nice to work with, even the kids. It's like a breath of fresh air."
Some advice she would like to give to her past self and her students is, "Honestly, don't be so stressed out about life in general. Everything is gonna work out. That's my advice to you guys, too. Like, high school's hard, but just take it easy. It's all gonna work out."
About the Contributors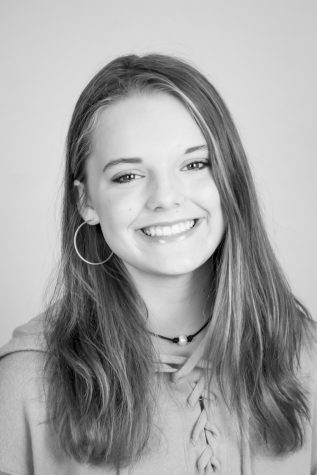 Abigail Hancsin, The Delphi Staff
This year Abby is a freshman at Del Val, and it is her first time writing for a school newspaper. Besides writing for The Delphi, she is also a cheerleader...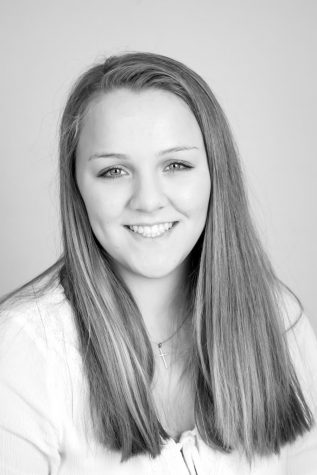 Courtney Higgins, The Delphi Staff
Courtney is a freshman at Delaware Valley Regional High School and is a part of The Delphi staff. She is also involved with Best Buddies and is on the...