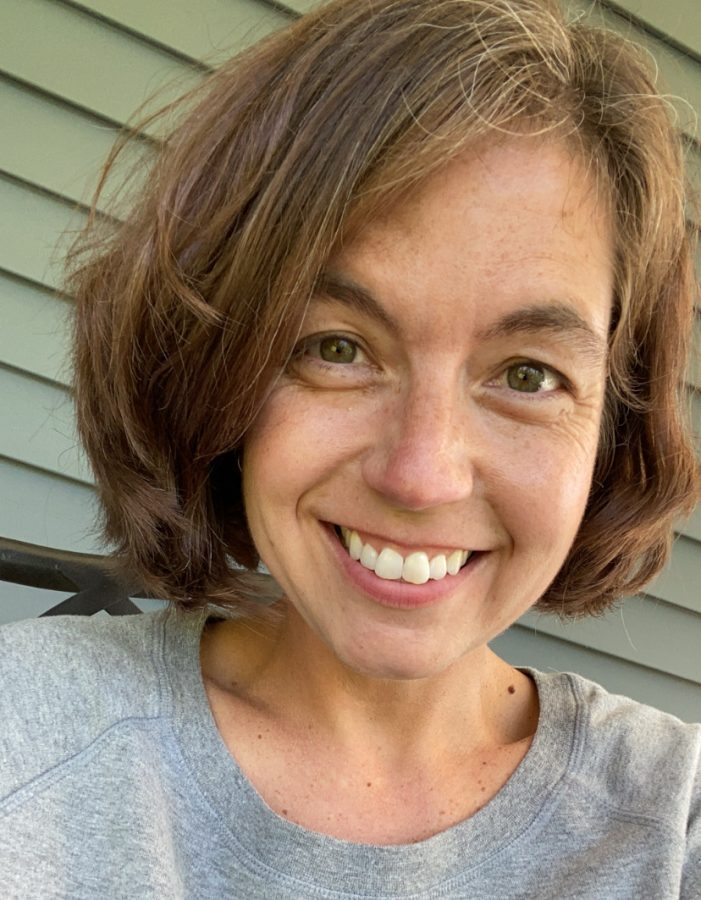 Getting to Know Ms. Grady
Ms. Grady is a teacher at Delaware Valley Regional High School who teaches honors biology as well as environmental science. 
Ms. Grady started her teaching journey when she went to college at Rider University. She earned her bachelor's degree in science and stayed two more years to get her teacher certification. She taught for ten years and got her masters degree from Mississippi State University.
Ms. Grady has always loved science, but she didn't always know she wanted to teach. When Ms. Grady went to college, her plan was to become a marine vet. She specifically wanted to go into coastal zone management to preserve the coast.
Ms. Grady has had many eye-opening moments in her life that changed her perspective of her career, but her first one was in her senior year of college.
"I was tutoring a girl in oceanography who was going to be a teacher, and she said, 'You know you really do a good job explaining these concepts. Have you ever thought of being a teacher?'"
As of January of her senior year in college (she would graduate in May), Ms. Grady didn't know what her end goal was going to be. Her marine vet dreams were shut down when she found out what kind of job she would be getting into. It would've been sitting at a desk in a 10×10 room with eight inch square windows. She also wouldn't see anybody unless someone needed her to do a task, so she decided that she would go through the graduate level teacher certification program.
"And I had this epiphany, like that light bulb moment that you see in cartoons? I had the lightbulb moment!" Grady said.
She came home to her parents excited because she finally knew that she wanted to teach for the rest of her life. She told her parents the news and got a laughing response from both of them. They both knew since she was five that she would be a teacher; it just took Ms. Grady longer to figure this out.
After pursuing her "light bulb moment," Ms. Grady started to work at Del Val, but Delaware Valley wasn't always her first choice. Her first choice was Hoco Valley, but they wouldn't take her so she fell back on Del Val. At first she was bummed that she didn't get admitted, but after twenty years working as a teacher at Del Val, she believes working here was the right choice.
For hobbies, she is a coach for her daughter's softball team, as well as her Girl Scout leader. Ms. Grady also has a passion for collecting rocks! She has been collecting rocks all of her life because her dad was an excavator, so she was always around rocks and fell in love with collecting them.
She has many rocks, pound on pound even, but she keeps some of her most prized ones in her pocket. One was from the aftermath of a volcano, a rock just outside of Mount Saint Helen, a rock from her daughter Erin because it looks like lava, a jade rock, and hematite.
She's had all of these rocks since 1995, and she keeps these in her pocket because she likes to fidget with them to reduce stress. She's taken every single test with them, as well.
After receiving a roadside geology Alaska book, marking all the places in Alaska where you could find different rocks, Ms. Grady set off to Alaska with her rock hammer in June of 1999. She collected the rocks in her backpack, around fifty pounds of them.
She brought her bag of rocks on the plane and when she landed in Seattle (she had to fly from Alaska to Seattle then to Newark), Ms. Grady was required to go through security again. She put her bag down on the conveyor belt to go through the security check X-ray, and it set off all of the silent alarms.
"The lady who was monitoring the screen calls her supervisor over. And the supervisor picks it up off the conveyor belt and looks at me and says, 'Jeez lady, what you got in here? Rocks?' And I said 'Yes, as a matter of fact I do,'…and I said, 'If you want, you know I'll unpack them?'" Grady said. "He goes 'No ma'am I've been working at this airport for like twenty-five years and I can't count the number of times I am asked that question. You're the only person who has ever said yes, so I completely believe you.'"
The supervisor passed a bomb detector just to double check and told Ms. Grady to make sure she sees a chiropractor when she gets home. She still has all of those rocks, and more, in the storeroom of her classroom. 
Ms. Grady is an enthusiastic and outgoing teacher looking forward to seeing all of her students. From past students to present students, she shows all the same affection, wishing the best to each and every one and hoping they become successful and happy over everything.