The Evan Gershkovich situation: not just another 'Brittney Griner'
It's a situation that sounds all too familiar. An American detained in Russia under dubious circumstances. A possible prisoner swap. To Americans, this description sounds almost reflective to that of Brittney Griner's arrest in February 2022. 
On Feb 17, Griner was detained in Moscow after authorities discovered cannabis oil in her luggage, and a few months later, she was found guilty of attempting to smuggle narcotics into Russia.
Following Griner's conviction, there were international pleas for her release, and the Russian government finally reached an agreement for her release in December. In exchange for setting her free, the U.S. would in return release Viktor Bout, a Russian arms dealer. Bout is known for his weapon manufacturing, a career that has earned himself the infamous nickname of the "Merchant of Death." The prisoner swap was highly controversial, and both sides are still working through the repercussions from the deal.  Yet, now, many are predicting that the same story may be happening all over again but with a new protagonist. 
Almost a month ago, American journalist Evan Gershkovich was detained in Russia on accounts of espionage. Gershkovich, a journalist for 'The Wall Street Journal,' was based in Russia and had recently been covering the Russian-Ukraine war as well as other Russian-related news. 
Interestingly enough, Gershkovich is of Russian descent and grew up in Princeton, NJ. His parents, Ella and Mikhail Gershkovich, had separately fled Russia, then the Soviet Union, during a massive wave of emigration in the area. The reason for their flee was out of fear of the possibility of Jewish people in the USSR being exiled to Siberia. 
Despite the rocky past his family has with Russia, however, Evan's parents and friends expressed that he still harbored a deep love and fascination for Russian culture. Unfortunately, his love for Russia eventually clashed with another of his passions: journalism. 
Before working for the WSJ, Gershkovich had held a comfortable position in 'The New York Times.' However, he left the 'NYT' so he could instead pursue his personal passion to live in Moscow.  In 2022, Gershkovich arrived in Moscow, and during his time there, he reported on a variety of topics. 
According to Gerskovich's friends, he adored his time in Russia, and completely immersed himself in the culture. Unfortunately, things took a turn for the worst when he was detained in the Russian city of Yekaterinaburg on March 29, and was formally charged with espionage on April 7.
His arrest made Gershkovich the first American journalist to be detained in Russia on accounts for spying since the Cold War. More specifically, Russia's FSB security service claims that Gershkovic had been collecting state secrets regarding the Russian military. Gershkovic's arrest was met with outrage, and there have been many calls for his release. The U.S. Secretary of State, Anthony Blinken, condemned Russia's actions and urged for Gershkovich to be set free. 
"In the strongest possible terms, we condemn the Kremlin's continued attempts to intimidate, repress, and punish journalists and civil society voices," said Blinken.
Gershkovich, as well as the 'WSJ,' denied any wrongdoing. 
On April 18, hearings for Gershkovich's case began. The hearings are being held behind closed doors, and little information about these hearings has been released. We do know that Gershkovich's legal team offered the Russian court a bail of 50 million roubles ($611,250), and that offer was rejected by the court.
 During the hearings, it was decided that Gershkovich be ordered to remain in pre-trial detention until May 29, but that date can be extended. 
Gershkovich's trial is set to occur sometime in May, and he currently faces up to 20 years in prison if found guilty of espionage charges. 
However, there have also been rumors concerning a possible prisoner-swap between Russia and the U.S. On April 25, during a conference at the United Nations, Russia's foreign minister Sergey V. Lavrov hinted at the possibility for a prisoner-swap involving Gershkovich and another American currently detained in Russia, Marine Paul Whelman. More information regarding the theoretical prisoner swap remains unknown. 
Many have attempted to draw similarities between Gershkovich's case and that of Brittney Griner. However, it must be understood that these situations, while similar in some aspects, are completely different. 
While Griner quickly confessed her culpability, the Russian government has failed to give any specific rationale as to why Gershkovich was detained. And now, he may lose his freedom just for attempting to report the truth, which simply is the role a journalist is meant to play in today's world. 
There are multiple theories that have attempted to explain the call for his arrest. Firstly, the Russian government may be attempting to send a message to foreign journalists to refrain from attempting to report anything that can be interpreted as critical towards Russia. Unfortunately, this concept is nothing new. Today, the media is more prevalent and influential than ever, and due to this, many governments will go to great lengths to ensure that they get good press coverage.
Secondly, Gershkovich may have simply come across information that the Russians do not wish to get out, and hence felt the need to silence his voice. This thought is truly tragic, as it demonstrates the risks journalists take to simply report the truth.  
Gershkovich's story, among many others, demonstrates the need to protect the safety of journalists. It is because of this that international governmental bodies, such as the United Nations, must work to pass international legislation that guarantees the rights and protection of journalists. Today, journalists help keep the world connected, and help us all to understand the world, including both its positive and negative dimensions.
It's simple. The world needs journalists. And journalists need the world's support.
Your donation will support the student journalists of Delaware Valley Regional High School. Your contribution will allow us to attend conventions, purchase equipment and cover our annual website hosting costs.
About the Contributors
Ellen Jordan, The Delphi Staff
Ellen Jordan is currently a freshman at Del Val. This is her first year writing for The Delphi. Ellen is involved with the high school soccer team and...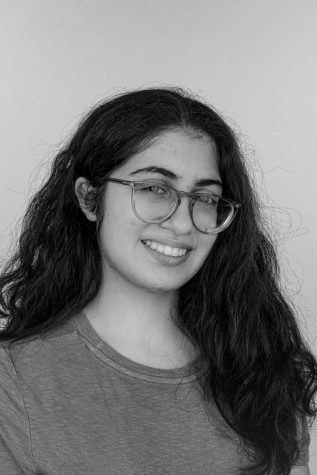 Melina Karimi, Social Media Editor
Melina is now in her last year at Del Val and is excited to know where her senior year will take her. What she is most happy about this year has to be...