On Aug. 9, at the final show for the U.S. "The Eras Tour's" first leg, in a stadium with over 70,000 fans screaming in the crowd, Taylor Swift announced her newest album, "1989 (Taylor's Version)."
This announcement marks the artist's fourth re-recording of six albums, and it has been heavily anticipated since she began with "Fearless (Taylor's Version)" in March 2021. But what does (Taylor's Version) mean?
Swift's career began in 2006, with her self-titled debut album. Over the span of the next decade, she would go on to release a total of six albums with her record company Big Machine Records (BMR). Throughout her time with the label, she broke hundreds of records and reinvented her image time and time again. 
When her contract with the company ended in 2018, Swift refused to resign because BMR's former CEO, Scott Borshetta, reportedly required her to sign on to the label for another 15 years. Those years would likely last the rest of her career. Swift then moved to Republic Records, whom she has been under contract with ever since. 
On June 30, 2019, BMR was bought by Scooter Braun's company, Ithaca Holdings, for 330 million dollars. With this purchase came Swift's song masters. The artist took to social media to express her disapproval of the decision, and the lack of information shared with her before the sale. 
Over the next two years, Swift revealed information with various news outlets about what happened behind the scenes, as well as in her Netflix documentary Miss Americana. Contrasting opinions have arisen, with Swift stating she was given the opportunity to purchase her masters back with harsh conditions, including signing back onto BMR, while Borshetta claimed that Swift had rejected any offer to purchase the masters. 
Swift continued to detail her complaints online, as Borshetta and Braun refused to give her access to perform songs from her albums recorded at BMR at the upcoming American Music Awards (AMAs). After fans attacked the two on Twitter/X and other social platforms, BMR released a statement saying that they had been able to come to an agreement with Swift to allow her to perform the music, but the conditions of this agreement were never released.
During her performance at the AMAs, Swift wore an oversized white button-up with her albums "Taylor Swift," "Fearless," "Speak Now," "Red," "1989″ and "Reputation" displayed in bolded letters. The outfit was rumored to symbolize Swift's lost albums amid her online clash with Braun.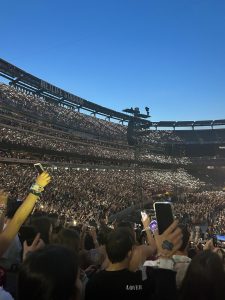 The artist revealed two months later in her "Miss Americana" documentary that Borschetta and Braun had also prevented her from including any scenes, past or present, of her songs created with the label in the documentary. Additionally, the songs could not be used as background music over other images. 
Four months after the release of the documentary in April 2020, BMR released an album under Swift's name titled "Live From Clear Channel Stripped." The album included a mixture of songs from Swift's first two albums and her "Beautiful Eyes" EP. Swift again took to social media to inform fans that this release was in no way approved by her and referred to it as "Just another case of shameless greed in the time of coronavirus" on her Instagram story.
Brauns' most recent move in the controversy was in October 2020, when he sold the masters to Shamrock Holdings for 405 million dollars and an undisclosed percentage of future profits. The group reached out to Swift's team to offer an equity partnership, which she declined, stating that she refused to make any sort of deal that would include Braun. 
This was seemingly the final straw for Swift, and February 2021 marked the beginning of these re-recorded releases. Thus far, Swift has released "Fearless (Taylor's Version)," "Red (Taylor's Version)," "Speak Now (Taylor's Version)" and two singles: "Wildest Dreams (Taylor's Version)" and "This Love (Taylor's Version)," both originally from her album "1989."
These releases marked major successes for Swift, breaking multiple records including for her song "All Too Well (10 Minute Version) (Taylor's Version) (From the Vault)," which was the longest song, at 10 minutes and 13 seconds to top the Billboard Hot 100.
"1989 (Taylor's Version)" will be the most recent release of Swift's, which will debut on Oct. 27, the nine-year anniversary of the original album's release.
However, the most important aspect of this controversy has been the legal decisions behind the scenes.
Every song has two legal facets to it: the master and the copyright. The master is the recording of the music that has been published, and the copyright of the material is for the melody and lyrics to the song. Even though her masters were sold, Swift still owns the copyright to her songs, meaning Swift can take the original lyrics and melody to her songs and re-record them to have full ownership over the newer versions.
Which is the best "Taylor's Version" release so far?
Sorry, there was an error loading this poll.
Throughout this online debate, Swift seems to have inspired other artists to own their masters, such as Echosmith, Ashanti, Planetshakers and Demi Lovato, all of whom have re-recorded songs of theirs due to contractual differences and licensing issues.
Though this situation has been mentally and physically taxing on Swift, she has only shown that she can come back stronger every time.
As The New York Times stated when "1989" was first released in 2014, "Ms. Swift is aiming somewhere even higher, a mode of timelessness that few true pop stars… even bother aspiring to."
This statement has certainly become reality, with Swift's 17-year career still going strong and with "1989 (Taylor's Version)" predicted to break records that even the original pop sensation album could not achieve.