Del Val girls Volleyball finished yet another impressive season under the coach Erin Fleming. With a final record of 17-8, the varsity team won another sectional title. 
Moving into sectional playoffs, the girls surpassed many milestones. Senior Tasha Kreher hit 100 career digs, setting the tone for the strong season ahead of them. Del Val opened the sectional playoffs with a win against Leap Academy. Taking the win in two sets with a final score of 25-8 in both, Del Val continued to the semi-finals. On Nov. 3, Del Val took on Johnson High School on the Terriers' home court. Junior captain Abbey Bivona led the team in number of kills, scoring 13 points. The Terriers finished with another win in two sets with a score of 25-13 in each.
"With each game, our bond got stronger and it reflected on the court," said junior captain Abbey Bivona.
With each game, our bond got stronger and it reflected on the court
— Abbey Bivona
Energies were high as the athletes continued to Sectional Finals where they played Point Pleasant High School. With a difficult start to the game, Del Val lost the first set with a score of 25-13. As the spirit heightened entering the second set, the Terriers were able to keep the game going with a comeback score of 25-7. In this set, milestones were hit by senior Josie Lavigna, who reached 100 career kills, and an impressive breakthrough from senior Katie Kraynanski, who continued a great season by passing 200 career digs. Del Val was victorious with a final win in the third set of 25-13. During this victory, sophomore Maggie Simpson beat the school record of 354 season assists.
"The sectional final game stood out to me so much because even though we didn't start strong, the team was able to come back with a near perfect second set and kept that consistent through the third," said Fleming.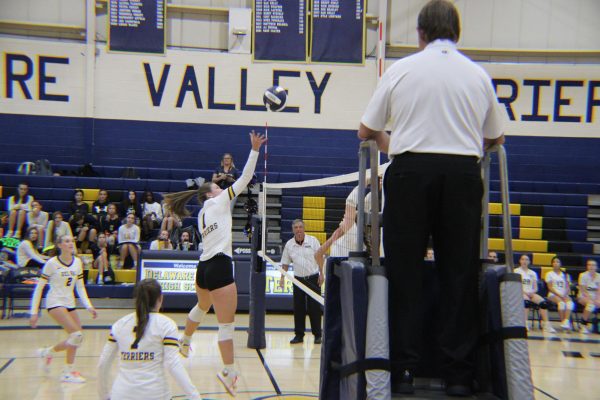 Following the victory, the team continued to State Finals with a winning streak under its belt. Although the team came short in the finals, it still ended with an incredible season. After a tough loss in the first set, the Terriers were able to put up a strong battle in the second set with a final score of 25-23. Even though the team didn't come out  on top, the Terriers still ended the season with a well-earned ranking as one of the top 12 teams in New Jersey's southern region. 
Del Val volleyball looks forward to the new experiences and players it will host next year along with watching the continued growth of the returning athletes. 
"For future Del Val volleyball players, be sure to get as many touches as you can out of season whether that be club teams, clinics, or just on your own" said Coach Fleming.