French pension protests: who's in the wrong?
The 18th century is back and France may be heading towards its fourth revolution.
French President Emmanuel Macron recently pushed through a bill into French law raising the retirement/pension age from 62 to 64. Macron used constitutional power to advance his plans a week before its vote in Parliament.
Citizens are outraged over the lack of support from their government, considering this isn't the first time Macron has tried to pass laws relating to retirement. In 2019, the president attempted to unite the different sections of French pensions, instead of having separate segments for different types of jobs. His ideas ceased after the longest set of protests in France since the 1960s and the rise of COVID cases in 2020.
Now these protests have begun again, with French employees refusing to work and instead taking their opinions out into the streets. Trash began piling up as sanitary workers had not shown up. Others are now taking their frustrations out on major cities by setting areas on fire and attacking law enforcement.
Spending a month setting fires and protesting their jobs may seem dramatic to the non-French, but that is what French politics has always been: dramatic. People outside the president's home are yelling that they have beheaded their leaders before and won't hesitate to do it again. Yet throughout these protests, Macron has not faulted on his ideas.
The president allowed the cancellation of England's King Charles' first official state visit as the British monarch, major travel delays throughout the country and destruction of cities. Many media outlets have slowed their reporting on the topic, and it seems as though the protesters have begun to slow down. Now it's time to reflect and ask, is Macron's law that unreasonable?
France was tied for lowest retirement age in Europe up until this change, and this reform will save the country millions of dollars. This is especially helpful for the currently indebted France, who spends the most on pensions in comparison to their European neighbors. Additionally, this will help to ensure no taxes have to be raised or pensions lowered. Macron's decision seems to be the soundest, but citizens seem to be blinded by the fact that he pushed it straight through Parliament. 
French citizens don't truly have an issue with the raising of the pension age as they say. The issue is that Macron bypassed lower courts to ensure his law went through. The retirement age is deeply embedded in French society, as it has been an assurance that the French will work for a certain amount of time but have that time after to live out the rest of their lives.
The combination of this law being passed without a vote in Parliament and directly changing French customs is what has angered the French protesters, not just the law itself.
Your donation will support the student journalists of Delaware Valley Regional High School. Your contribution will allow us to attend conventions, purchase equipment and cover our annual website hosting costs.
About the Contributor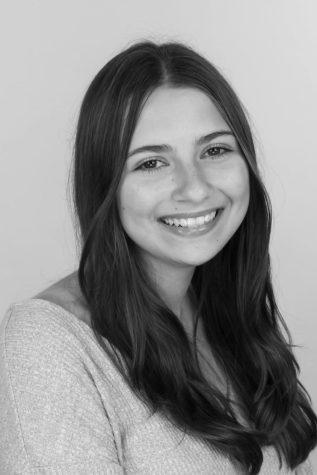 Gianna Roberts, Editor
Gianna is a freshman at Del Val and this is her first year working on The Delphi. In her free time, Gianna enjoys reading, listening to music (especially...