Del Val reacts to Ukrainian invasion
As the world is aware, Russia invaded Ukraine on Feb. 14, 2022.
Since the Cold War, tensions between these two countries have been high.
After the Soviet Union dissolved, many former Soviet states were thrust into their own statehood, independent from Russian rule, and many of these countries still have remnants from their Soviet-era control.
Since the separation of the Soviet Union, countries such as Belarus have grown closer to Russia, while others, such as Poland, have distanced themselves. Ukraine is one of the countries that has separated from Russian rule but failed to receive independence in the 20th century.
In 1991, Ukraine got its independence after the Soviet Union collapsed. Ukraine's fight for independence, however, is not over.
"They [Russia] were humiliated after the fall in '91," said Mr. Ted Manner, a Del Val history teacher. "They were more or less told what to do by the West in terms of their economy. They had no economy, and they had people who were literally starving to death. They [Russia] fell apart and were humiliated."
Tensions were quiet until 2014 when Russia invaded Crimea. This was the first indication in modern times that Russia was not going to allow Ukraine to have its independence.
"
They had no economy, and they had people who were literally starving to death. They [Russia] fell apart and were humiliated."
— Mr.Manner
For the second time, Russia has invaded Ukraine. This event is one of the most aggressive invasions in modern history as Russia has taken over Chernobyl and the power plant in Zaporizhzhya. Enerhodar built a large barricade to try and stop Russian troops from invading the power plant, but they were unsuccessful, leaving barricades damaged and broken.
Russia also more recently bombed a maternity hospital in Ukraine, killing many pregnant women in Mariupol.
Russia even bombed Kyiv, demolishing apartments and residential complexes and turning the town into ruins. Refugees were fleeing the country because of this rising war.
As the discussion about this war leaks to the outside world, many people are confused about the implications of the conflict.  This includes students in Manner's sophomore U.S. History I classes.
"They have all different questions, like one of the first questions, is this going to be World War III, for example. Is the United States going to be brought into it? Is there going to be a draft? These are common questions," said Manner.
This conflict isn't just affecting Ukraine. U.S. troops are currently in Poland, where President Biden has banned oil imports from Russia due to rising Ukrainian civilian casualties.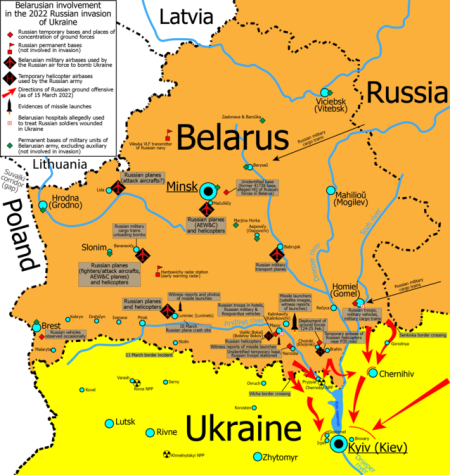 Under partial anonymity, Valerie, a Russian citizen and friend of Delphi journalist Molly Boetsch, shared her perspective with The Delphi. 
"Life in Russia always felt like a whole survival game for most Russians," said Valerie. "And these days, everything has become more depressing. Russians panicked because the dollar and euro increased in their price, prices increased, foreign companies closed and people lost their jobs. We don't understand why the whole country should suffer because of one person. The Russian government doesn't care about people. We all feel like we're in jail at the moment."
Unfortunately, nothing can easily be done by the citizens. There are protesters chanting "no war," but it is ineffective, not to mention illegal, since Russian citizens don't have a 1st Amendment right to do so.
Russia has created a censorship law that penalizes anyone "discrediting" the military or anyone "anti-government" with 15 years in prison, and it has also blocked access to Facebook.
In order to support Ukraine, NATO members from other countries are currently supplying Ukraine with weapons and supplies.
With the invasion happening so quickly, some independent companies have also decided to help. Microsoft and Apple have paused sales on products and services in Russia. Russia is also temporarily banned from participating in multiple sporting events.
"I don't think it's necessarily fair for Russian athletes to be pulled out of sporting events, but at the same time I don't think Russian athletes should be allowed to do it [compete]," said Jonathan Findeis, a Del Val junior. "It's not fair that they're not being allowed to play their sport, but at the same time it's also not fair for their country to be able to participate on the national stage, while also breaking convention laws and invading an innocent country without any cause."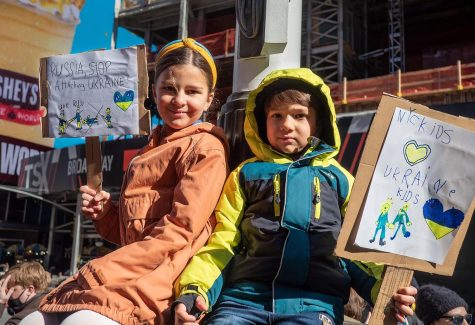 This invasion seems very similar to many other invasions in history.
"That's the stone cold irony in all of this. He [Putin] is doing exactly what Hitler did, to Russia," said Manner.
Students study history so history doesn't repeat itself, but the world is yet again watching a dictator invade an innocent country.
As weeks, days and even hours go by, the world can only hope that World War III doesn't begin.
"What Ukraine represents is powerful, and you can argue that we've lost touch with those values," said Manner. "We kind of take it for granted, and we've gotten sucked into all this partisan, political warfare domestically, and we've kind of forgotten the underlying values that are very important, and something like Ukraine can remind us of those things. Zelenskyy has done that. He has framed it as really a war between democracy and authoritarianism."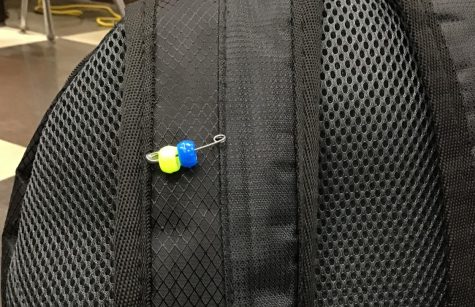 For those in the community who would like to help support Ukraine, reach out to the Student Advocates For Equality club presidents Hunter Leeds and Rin Gately.
S.A.F.E recently collected donations to help fund humanitarian aide for Ukraine. Students and teachers were able to donate and receive candy as well as to purchase a beaded pin with the colors of the Ukrainian flag.
"Our mission is to promote open discussion and awareness about conflicts in modern culture and topics surrounding intersectionality," said Gately. "Raising consciousness of these subjects leads to positive contributions to the community and school environments. We chose to raise funds for Ukraine because many citizens are being displaced due to the Russian invasion, and we wanted to assist with the humanitarian effort that will be put into finding food, shelter, and supplies for those in and out of Ukraine being affected."
Although Del Val's community is small, S.A.F.E. believes that every cent counts when supporting Ukraine.
"Hopefully, our contributions can help the reconstruction effort, or help those struggling to reach refuge and safety from the Russian troops," said Gately. "Homes, businesses, and cities are being destroyed and people have had to leave their lives behind, all of us at Students Advocating for Equality were compelled to help in any way we could. The pins were a last minute addition that were handmade by club members to share the Ukrainian colors and show support, not only financially."
Your donation will support the student journalists of Delaware Valley Regional High School. Your contribution will allow us to purchase equipment and cover our annual website hosting costs.
About the Contributor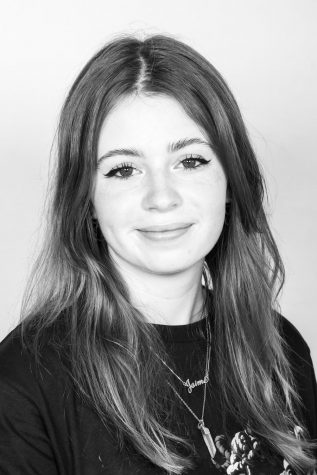 Jaime Salerno, Editor
Jaime is a senior at Delaware Valley Regional High School. Jaime's passionate about health, helping others and writing. She hopes to pursue a career in...