Del Val alum new voice of Iron Pigs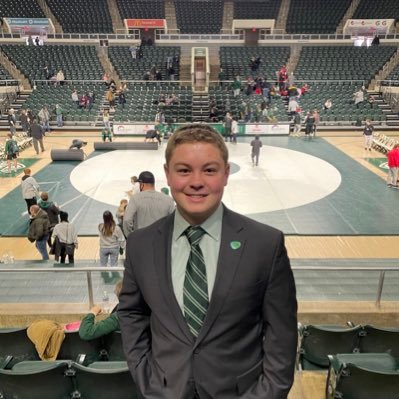 Connor Mills graduated from Del Val in 2017 with the dream of one day becoming an announcer for a major league team. Currently, he's on the right path.
Mills is the new announcer of the Iron Pigs radio broadcast along with Mike Ventola and Pat McCarthy. The Iron Pigs are a Triple-A affiliate of the Philadelphia Phillies.
Even though Mills is on his way to the big league, he stills has fond memories of Del Val. His fondest memory is when him and the rest of the wrestling team "won the state championship [in 2017]".
He remembers his time with his coach, Mr. Fitz, and proudly talked about his time with the team and his teammates.
"Connor was as goal orientated as a student athlete as I ever had at Del Val," said Fitz. "He knew what he wanted to do in life and worked incredibly hard to get where he is today. He was a wonderful leader on our 2017 state championship wrestling team and qualified for states twice during his career. I am very proud of his new position and wish him all the best."
Mills didn't just succeed at wrestling. He was on the 2017 baseball team that won the sectional title. Mills described this accomplishments as "really special."
"Connor is one of the best student athletes I have ever had the pleasure of working with in my 26 years as a teacher and coach," said Mr. White, Del Val's baseball coach.
Off the field, Mills was a founding member of Mr. Gregson's Del Val's TV Media program, DVTV. He was part of the first TV Media class that was with Mr. Gregson for all four years, whose lessons Mills describes as still being "valuable."
"The lessons Mr. Gregson taught me are still in the back of my mind," said Mills.
In his senior year, Mills became the first permanent host of DVTV.
"Connor is a special person," said Gregson.  "He and I are still in touch and whenever he came home from school in Ohio, he and I always got lunch to catch up. Quite simply, DVTV wouldn't have ben able to accomplish what it has accomplished without Connor.  He's not just one of the best students I've had, he's also one of the best people I've come to know in my life."
Mills was also the class president in 2016 and 2017. At Del Val he "met a lot of friends [and] really enjoyed it."
After graduating from Del Val, Mills went to Ohio University for Journalism. More specifically, he attended Scripps College of Communication at Ohio University.
"From the get-go, I pursued the path of public address announcing, or more specifically at the time, broadcasting," said Mills.
His first public address announcing experience was here at Del Val during "football games and senior nights". He credits Mr. Webster for taking him under his wing and being a great mentor.
"[Ohio University] was the perfect fit…and I wouldn't change anything," said Mills.
Mills then had an opportunity to do some broadcasting for ESPN3 "right out of the gate." He was the commentator for Ohio University wrestling and did play-by-play for wrestling matches.
Mills was very busy during his time at Ohio U. He announced games for baseball in the summer, as well as softball games, wrestling and worked as an on field MC for football games.
Mills was also a sports director and production director at WXTQ radio.
While he was at Del Val, Mills met 1969 class president Ken Burger, who had done in venue public address announcing at the last four Olympics.
Regarding the impact Ken Burger has had on him, Mills said, "Ken has taken me along and furthered my development as a public address announcer."
Burger introduced Mills to amateur wrestler and announcer Bill Zadick, who Mills has announced tournaments with.
Along with announcing and working at a radio station, Mills was "working a little bit with television station WOUB in Athens, Ohio." He worked on a weekly show called 'Gridiron Glory.'
Working at the radio stations in Ohio led to Mills getting a job with Fox.
"It was my experience at WATH and WXTQ that helped me land a job at Cumulus, Allentown and, more specifically, for WEEX AM Fox Sports Radio Lehigh Valley 94.7 FM," said Mills.
Mills was put in the rotation for the station after someone got sick and, in impromptu fashion, he was asked to "cut together some highlights [and] do the scoreboard updates". After that, "they just worked me into the regular rotation."
Mills thanked Tom Fallon multiple times for helping him get the job with the Iron Pigs.
Initially, Mills did the pregame and postgame shows and he would jump in the broadcast for a little bit of time, but now he is in the booth with Ventola and McCarthy.
"
The dream job is to do the play-by-play for the Mets, but hey, I can become a Phillies fan pretty quick,"
— Connor Mills
Mills grew up a Mets fan, and his favorite player was David Wright.
"I listened to Gary Cohen and Howie Rose. I've picked up a mix of Howie [Rose] and Cohen," said Mills.
Stylistically, Mills says he's a lot like Cohen and Rose, and he would occasionally pay homage to Cohen by using one of his home run calls.
Mills' goal is to one day announce for a major league team.
"That's the dream. The dream job is to do the play-by-play for the Mets, but hey, I can become a Phillies fan pretty quick," said Mills. "I'm thrilled to be working with them. I'm thrilled to be at Fox Sports, and I can't wait for the start of the season."
There are multiple ways to listen to Mills broadcast Iron Pigs' games.
"If you're in the Bethlehem or Allentown area, 94.7 FM, also 99.9 WODE-FM, carries Lehigh Valley Fox Sports," said Mills. "And then LV-FoxSports.com. Also, if you go to the minor league baseball site, if you go to Iron Pigs baseball, you can click some links and find where the 'listen live' page is."
When it comes to his broadcasting future, Mills said, "The ride is not over yet."
Your donation will support the student journalists of Delaware Valley Regional High School. Your contribution will allow us to purchase equipment and cover our annual website hosting costs.
About the Contributor
Joe Flynn, Sports Editor
Joe is a senior who is interested in sports. His favorite sport is baseball, and his second favorite sport is football. Joe joined The Delphi staff because...