Season Update: Del Val Boys Basketball loses tight battle, but comes out more determined
Following a heartbreaking loss to Hunterdon Central on Saturday, Del Val Boys Basketball is looking ahead. 
The 61-59 loss came after a Central bucket in the final seconds, which handed Del Val its first loss since December.
"The loss was a tough game to swallow because we had every opportunity to win," said Head Coach Mike DePaolo.
The Terriers have yet to lose in double digits, and their 3 losses have all come down to foul shots. DePaolo is encouraged by the team's ability to compete with historically strong programs like Central and feels that this game can only fuel them further. 
Wednesday's resounding 69-36 win over South Hunterdon proves that Del Val is quick to recover from a setback.
This season, Del Val (6-3) has been creating major problems for defenses with senior Logan Blake.
Blake is 6' 7″ and shoots well from the outside. Opponents have a difficult time responding, as he averages an impressive 26.4 points per game. Last week, he averaged the 4th most in the state. Blake dropped a career-high, and daily state-best, 41 points against South Hunterdon last Thursday.
"Whatever we need him to do, he does and sets the tone for the rest of the team," said DePaolo.
DePaolo also said that one of the benefits of having such a dominant scorer like Blake is that he allows the other players to get good looks.
"
As the season has gone on, everyone from freshman to seniors have become closer, which has taken our game to the next level,
— Logan Blake
Senior Craig Baran contributed 10 points against Central, sophomore Frankie Denvir had 13 against South Hunterdon, and junior Justin Koplan added 10 against Pingry.
DePaolo also praised Blake and Baran for their leadership on and off the court in their third years as varsity starters.

"We started off the year as almost strangers who haven't played with each other much at all, but as the season has gone on, everyone from freshman to seniors have become closer, which has taken our game to the next level," said Blake.
DePaolo names consistency as the biggest challenge for his team. "[We need to] consistently play hard for 32 minutes, consistently be in the right spot, consistently cutting hard," said DePaolo.
However, DePaolo cites "rebounding" as another strength of this team. The team averages 38.5 rebounds per game and has out-rebounded its opponents in every game this season.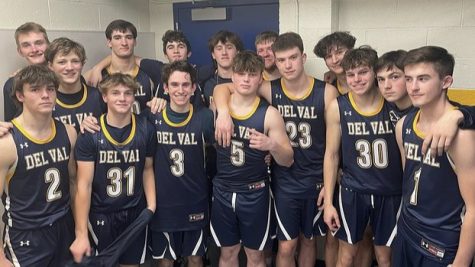 A big part of Del Val's rebounding power is Baran, who averages 13.3 per game, despite coming off an injury.  Their tall starting lineup and bench presents an additional headache for opposing teams. 
"I have persevered this season by focusing on getting back and getting healthy. I also tried to focus on the bigger picture and what this team can accomplish," said Baran. 
Del Val takes on Lawrence for its doubleheader and White Out at home on Thursday, Jan. 20 at 7 pm. 
"We are very excited with where we are at, and I am very proud of the way our guys have played so far and responded to the adversity that we have faced," said DePaolo.