Don't Look Up: a comedy with meaning
Don't Look Up is a Netflix original movie about a humanity-threatening comet that was discovered by two low-level astronomers who must go around warning anyone and everyone about their imminent destruction.
This movie might be about a planet destroying comet, but the movie has a deeper meaning than its generic end of the world plot. This movie is filled with satire, centered around making fun of the media, politics and everyday people and their actions.
This movie has an amazing cast of actors such as Leonardo DiCaprio, Jennifer Lawrence, Timothée Chalamet, Jonah Hill and more. Leonardo DiCaprio plays Dr. Randall Mindy while Jennifer Lawrence plays Kate Dibiasky, the two leads of this film.
Judging a book by its cover, the movie didn't catch my attention at first. What would've interested me would've been the cast, but the plot didn't seem too intriguing. The movie is a slow burn, as it starts off neutral and maybe even boring, but it quickly escalates into a funny, captivating story.
If given the chance, this film can quickly become a fan favorite, leaving a lasting impression fans' top movie list. The combination of actors and its comedic take on modern culture makes this movie that much better.
It's fun to sit back and laugh at this Netflix comedy, but the movie really does make viewers question if there is truth behind any of its jokes.
For example, Riley Bina (Ariana Grande) and DJ Chello (Kid Cudi) go through a public break-up, and the world decided to pay more attention to this drama than their impending deaths. As corny and "out of this world" as this premise might seem, this type of reaction seems to be the case when any celebrity drama happens, like Kanye and Kim Kardashian's marriage ending.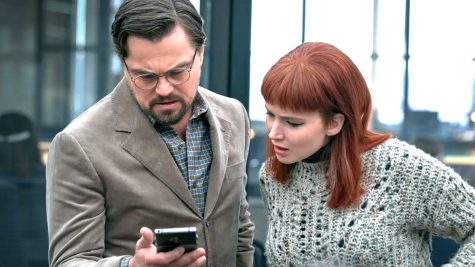 The movie also takes direct aim at some companies and specific people. According to cutacut, President Janie Orlean and Jason Orlean represent the Trump family, Peter Isherwell (a CEO of cutting edge phone technology) represents big company names like Elon Musk and "The Daily Rip" (a morning talk show) represents Good Morning America. All these examples were for comedic purposes, but they share a grain of truth in every joke.
The characters in this movie may resemble people in the real world, but the event of a planet-threatening comet can also represent real world problems like climate change.
As of right now, most people have heard of climate change, and while some people believe in its effects on the planet, others do not. Many companies and individuals try their best to prevent climate change from becoming worse, but the rest of the world does not seem to care enough to make changes, especially because the threat is not going to affect them immediately.
The run time for Don't Look Up is two hours and 25 minutes, currently only available to stream on Netflix. Although the movie was given a 55% by rottentomatoes, the audience rating was at 78%.
When going through your daily hour-long search to figure out what to watch, make sure to check out Don't Look Up and have yourself a laugh at this satire.