Review: CODA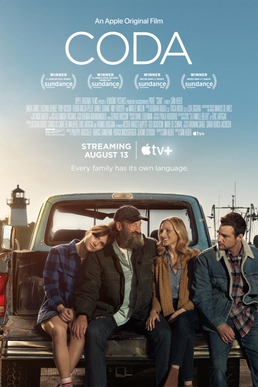 Spoilers Ahead:
August 13, 2021 was the first chance to watch the Best Picture Oscar winning movie, CODA.
CODA features the first deaf solo SGA award winner, Troy Kotsur, who plays the family's deaf father. Another deaf actor, Daniel Durant, plays the older brother, Leo Rossi. Marlee Matlin plays the family's deaf mother, Jackie Rossi. Differing from the rest of the Rossi family, Emilia Jones plays a teenage daughter, Ruby Rossi. Ruby is the only one with hearing both in the film and in real life.
Although CODA is not based on a true story, the film demonstrates a realistic depiction, capturing real life experiences that occur within deaf households. Having one hearing person in a family of deaf individuals can be a struggle for both the hearing and the deaf family members. 
As shown through many scenes, there is much frustration with the lack of communication and the reliance that the Rossi family has on Ruby for interpretations between anyone who tries to speak with them. It gets hard for Ruby, as she cannot be in two places at once. 
Ruby wants to have her own career, as she is a superstar when it comes to singing. She starts out by signing up for choir just to be with her secret crush. She starts off a little shy with her voice; however, by the end of the movie, she performs at her school. The Rossi family does attend this concert, although they aren't able to hear their own daughter sing. 
The Rossi family was not able to fully understand Ruby and her passion for singing, thinking she should do something else that they can all enjoy. Most viewers grew very emotional by the time the father asked Ruby to sing for him. 
"[CODA is a] bittersweet take on deaf culture and the adversities that they face throughout life in a hearing world," said sophomore Brooke Regep.
When watching this film, there is a clear sight on both sides of the story. Most people are just so used to being able to hear that they do not think of how hard-of-hearing individuals feel. Viewers can see how the three deaf family members get frustrated with Ruby because she can hear and knows what is going on around her at all times, which is shown when Ruby gets upset with her family for not having the best communication skills.
I would definitely recommend this movie as well as everyone else who voted for the Oscar winning film!