'Puffs' student directors excited for 'magic' on Del Val stage
Delaware Valley's fall play, 'Puffs,' will open this Friday at 7 p.m., and student directors, Swara Modi and Kal El Fiorito, have special insight as excitement about the play builds.
Fiorito and Modi are proud to be directors, especially because of their amazing cast. Whether it's working alongside the cast or instructing with the adult directors, Modi and Fiorito are always compiling ideas to make the show better.
"I like to think that being one of the first student directors will inspire students to want to be student directors in the future," said Modi.
Fiorito and Modi are honored to have their individual opinions and ideas taken into consideration while producing this play.
'Puffs' is a comical spin-off of the 'Harry Potter' series, but it is told through the perspective of the Huffle'puff' house.
"If you're a Harry Potter fan, you will definitely love 'Puffs.' It includes many different little Easter eggs from the books that only true fans will catch," said Modi.
Without spoiling too much, some references include the main character, Wayne Hopkins' haircut, and a gifted initial sweater.
Calling 'Puffs' "out of pocket and chaotic," both directors are confident that this production will make the audience feel all kinds of emotions, especially amusement.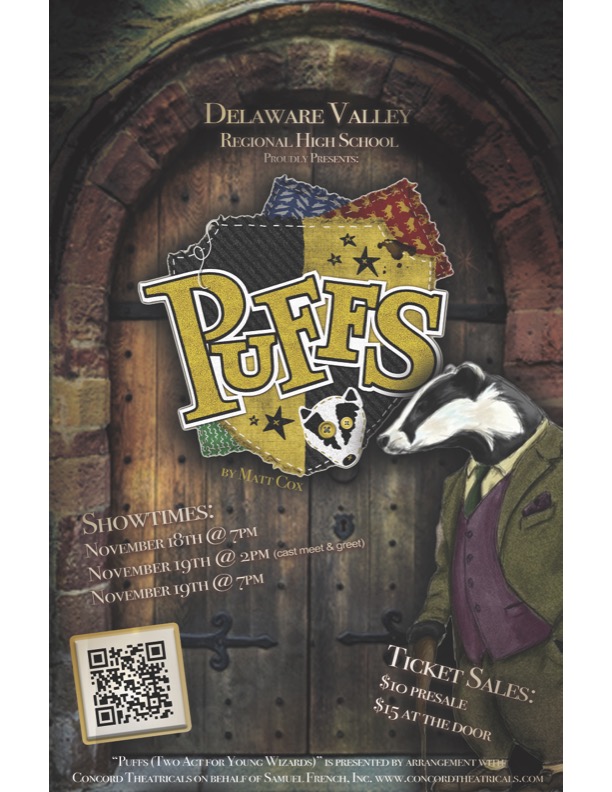 Due to strict legal restrictions, this parody is extremely funny when it comes to its allusions to the series without specifically naming anything.
Throughout 'Puffs,' there is a clear theme of togetherness. This play will not only be a good laugh, but it will also show important lessons in life.
Following the friendship of three young men, the directors shared that topics like determination and loyalty are illustrated throughout the play.
"This play really values the life lesson of friendship and working together when things get tough," said Fiorito.
As opening night inches closer, both the directors are excited to be in the audience and to watch all the hard work and dedication the cast and crew have put in.
"We've put so many hours into this show, and it's so great to see it all come together," said Fiorito.