Liam Newman: a tribute
Unfortunately on January 1, 2022, Earth lost one of its most beautiful souls.
Liam Newman was an amazing friend, brother and family member. His smile was able to brighten a room, and he always had the ability to lift the spirits of the people around him. Liam was an excellent lacrosse player and wrestler for Del Val, and outside of school, he enjoyed lifting weights, listening to music, going to the rope swing and being with his friends and family.
Every individual who had the privilege of knowing him had nothing but great memories to share.
"Liam was such a great friend and teammate. He always had something nice to say that would make you feel good about yourself," senior Sam Kirkpatrick said. "I loved talking to him after my matches because he would always tell me how well I did. He made everyone laugh and always had a smile. I could never be down when I was around him."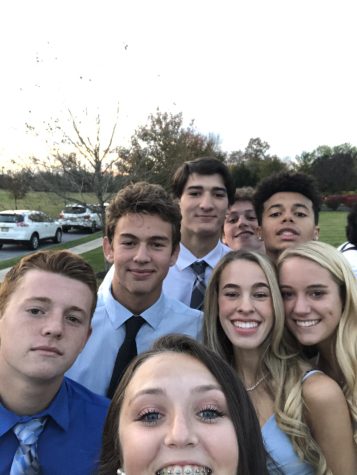 Liam always knew how to have fun, which was just another quality to add to all of his amazing attributes. "Knowing him since middle school, I've been blessed to make the memories with Liam that I'll remember for a lifetime, and a friendship I'll cherish forever," senior Rachel McIntyre said. "You would never not see him dancing to any throwback, laughing or just making the energy in a room that much better. Words can't describe how thankful I am to have known him and his smile."
Liam never failed to let anyone be unhappy. Being around him was always one of the most uplifting moments because his smile never left a frown on anyone's face.
"Liam Newman was an all around wonderful kid with a huge heart," senior Teresa Napolitano said. "He never failed to put a smile on someone's face. He always put others before himself which showed great character. Personally, Liam was a huge part of my life. We shared countless memories including going to the beach, spending quality time with his family and walking the streets of Frenchtown.  I'm so glad that I was blessed to have Liam in my life and I cherish every moment we had together."
Liam truly was one of the happiest kids, and he was always there for you if you ever needed anybody just to talk to or hang out with. "Liam, to me and many others, was one of the best people you could ever meet. He loved everyone who was around him unconditionally, and had the best attitude towards life. He was a true brother, and we miss him everyday," said senior Matt Schnieder.
We, as a school and community, have been forced to adjust to living in a world without the brightness of his smile and presence, but we will continue to tell his life story and not just his final chapter.
Liam, you are so loved by every person you have touched, and we miss you more and more each day.