Student Spotlight: Lucy Nugent makes a difference
Lucy Nugent is giving back in a unique way.
The senior runs her own 'Diaper Drive' through The Maker's Place in Trenton with help from the National Honors Society's committee. There are roughly 25 other students involved with the NHS committee, but Nugent is the heart of the project, working both "inside and out" of the school.
For the past 3 Decembers, Nugent has raised thousands of dollars through her drive, which she then brings to The Maker's Place in Trenton for their annual holiday diaper drive.
The Maker's Place is a diaper bank and Hope Center sponsored by the United Methodists of Greater New Jersey, which first launched in July of 2018. In collaboration with other churches, The Makers Place aims to provide resources to diverse communities affected by poverty. Through their monthly "Diaper Depot," the organization gives thousands of free diapers to families in need.
This year, Nugent notes that it's especially important to donate, since nearly 90% of families that receive diapers from The Maker's Place have lost income or employment due to COVID-19. "Since diapers cost $70 to $80 a month, it's a really big gap that needs to be filled," she says.
Lucy originally discovered the diaper drive because of a neighbor, whose church was taking part in the drive when Lucy was a sophomore. After seeing her neighbor's Facebook post, Lucy was intrigued by its singularity.
"
"It's different because I hadn't really heard of a diaper drive," she said, "which is different from a food or a clothing drive, so I was interested and I wanted to find out more."
— Lucy Nugent
By contacting the head of The Maker's Place, which gives individuals or institutions the opportunity to set up their own collections, Lucy was able to start a personal drive, collecting diapers and driving to distributions to allocate them.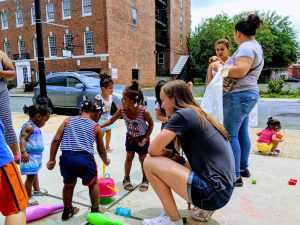 Lucy's first diaper drive, where she collected mainly from family members, was a success, inspiring her to resume the project her junior year. Now, as a senior, Lucy has expanded the diaper drive to the Lovin' Oven restaurant in Frenchtown, where she works, as well as to Del Val students and staff.
Physical diaper donations were previously collected in Del Val's media center, but with school closed due to COVID-19, Nugent collected donations directly at her home. Monetary donations which will go towards baby diapers, wipes, and other necessary items were also collected.
Beyond the diaper drive, Lucy is a multi-sport athlete, running cross country in the fall and playing softball in the spring. She is involved with Del Val's stage crew, Winter Musical, and Thespians Troupe, is a member of Peer Leaders and Best Buddies Club, and participates in Relay for Life.
After Del Val, Lucy plans to major in Chemical Engineering, using her degree to "help the human condition, and make the world cleaner." She hopes to continue her volunteer work, including the diaper drive, throughout college and beyond.
Lucy's biggest piece of advice for freshman students is to make an effort to become a part of Del Val and the surrounding community in any way they can, although she acknowledges that this can be difficult in a virtual world.
"Definitely try to join everything you can and just make the most of the four years you have, because it goes by so fast," she said. "Just getting involved, you'll be able to meet so many new people, and Del Val gives a lot of opportunities with the amount of clubs and activities you can do, so just meet new people and try new things, and make the most of your experience."