Local family's past tragedy still uniting community
In 2002, a Del Val student and star wrestler, Daniel Hutchins, lost his life in a car accident, leaving behind his family and a shocked community who would come to rally around his passing and bring the school closer together.
Daniel Hutchins was the first wrestler at Del Val to reach 100 wins, and he also took 6th in the state in 2002 in the 152 lb weight class. That same year, Hutchins tragically died at 18-years-old one week before graduation and on Father's Day. He left behind his brother, mother, and father to cope with the tragic loss. The family was crushed, especially Daniel's twin brother, Phil. " When the accident happened we were shocked and devastated. I knew right then and there that I did not just lose a twin brother. I lost my best friend in the whole world, and now he watches over me every day.  My parents lost a great son, so overall we lost a great person way too soon," Hutchins said.  However, this family decided to celebrate his life, rather than dwell on their loss. 
 Phil has never left Del Val. After his brother's death, he graduated from Del Val but decided he wanted to come back and become an assistant wrestling coach to honor his brother. 18 years after his graduation, Phil  is still walking Del Val's utilizing a walker, as cheerful as ever.   
Since Daniel's passing, the Hutchins family celebrates his life in many ways. In his memory, the family goes to Daniel's gravesite every Father's Day, where they play a song for him and release balloons. Mr. Hutchins believes that because Daniel's passing happened on Father's Day, it's Daniel who should be celebrated and not himself. Another celebration of life that they host is Daniel R Hutchins Memorial Golf Outing, which was set up to raise money to fund scholarships and for athletic support for Delaware Valley. 
"
"When he passed away, our family wanted to do something in his memory, so my parents and I sat down and came up with the Daniel Hutchins Outstanding Wrestler Award,"
— Phil Hutchins
Phil Hutchins has been sharing his brother's story for the past 18 years. "When he passed away, our family wanted to do something in his memory, so my parents and I sat down and came up with the Daniel Hutchins Outstanding Wrestler Award," Phil said. The Daniel Hutchins Outstanding Wrestler Award, which was given out this year at the Delaware Valley versus North Hunterdon Regional High School match, is an award given to the most dedicated wrestler on each team for that season. "We chose North Hunterdon [for the opponent], even though he wrestled against them because Daniel had respect for them, and they had respect for Daniel," Phil said. Phil also stated that the North Hunterdon wrestling team took a bus to Daniel's funeral to pay their respects after the accident.
"We've been giving out the award for 18 years," Del Val Wrestling coach Andy Fitz said. "The Hutchins family was really good about setting up this award quickly." The Daniel Hutchins Outstanding Wrestler award been handed out every year since Daniel's passing, but unfortunately, this will be the last year the award will be given out due to a lack of funding, but the Hutchins family is still dedicated to hosting the North Hunterdon High School v. Delaware Valley Regional High School wrestling match in the future.
This year's winners for the award were Del Val's Nick Moose and North Hunterdon's William "Billy" Cole. The award is an honor for both teams each year. "The wrestlers have to show the dedication that Dan showed," Fitz said. Of course, honorees don't need to win 100 matches to lift the award, but they must show that they love the sport, just like Hutchins did.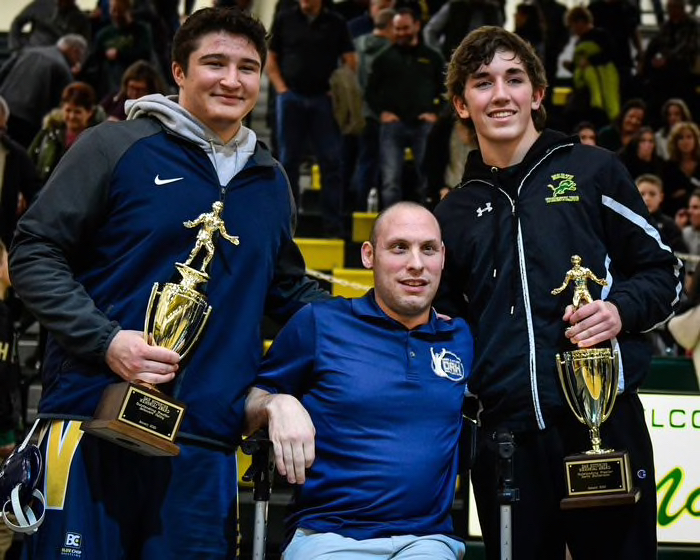 Delaware Valley Regional High School decided to "pay it forward" after the Hutchins family raised and fronted the money to start Del Val's volleyball teams and purchased new scoreboards for the school. Del Val staff, also grieving the loss of one of their students, surprised the Hutchins family by naming the new gym after Daniel.
Phil Hutchins still remembers the day that he learned of the dedication. "We had no idea what they were doing. The school just called our family in one day, and they told us because of everything we've done for the school and for Dan in his memory, they decided to name the new gym after Dan."  Although the gym is named the Daniel R. Hutchins gym, it is commonly referred to as "The Hutch" by students and staff. That name was coined by now-retired Del Val coach, Matt Gioretta, who got the idea from rival Phillipsburg High School's gym named "The Pit.
The Hutchins family has had a lasting impression on Del Val, whether or not current students are aware of their impact on this school. Phil lives his life telling his family's story to inspire others to be as great of a person as Daniel was. With Daniel's help, Phil lives his life to make his brother proud.
"With my disability, I wanted to accomplish a lot. I wanted to be able to coach like I still am today and be the person I am. The biggest thing I wanted to do was walk to get my high school diploma without my walker. So, I made a choice. When Dan was on Earth, he made me proud, so when I had time to think about it, I said 'Okay, well, it is my time to make him proud with the things I want to do.' I remember him telling me, 'Phil it's going to be fine. As long as you believe in yourself, that's all you've got to do,' and I took that [advice]."