Halloween 2020: once in a blue moon
Halloween 2020 will be one like no other. It's on a Saturday. It will have a blue moon. It will occur during a worldwide pandemic.
On October 6, NJGOV tweeted about Halloween: "Halloween is ON." The tweet also outlines how to social distance while celebrating. To learn more, read the original tweet provided below.
The question on most people's mind is  whether or not trick-or-treating is still a go? For the Del Val area, the answer varies depending on your town. If you plan on going to Holland, Alexandria, or Milford, it's a go. If you plan on going to Frenchtown and Kingwood, you're out of luck.
For those who choose to go trick-or-treating, you must not replace your face mask with a costume mask unless it is an approvable face covering. To be approved, it must have at least 2 layers of breathable fabric that covers the eyes and nose.  NJ101.5 advises the public to not wear a costume mask over a normal one, which could be potentially dangerous.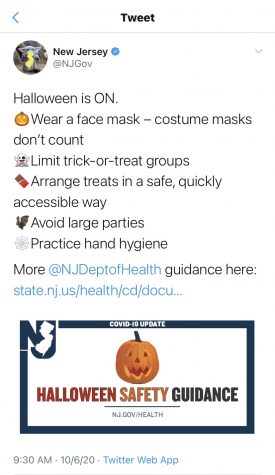 A safer way of trick-or treating is creating a boo-bag. What's a boo-bag, you may ask? According to candyindustry.org, "boo-bags are a fill-your-own kit to surprise friends and neighbors with Halloween treats as an alternative to traditional trick-or-treating during the pandemic."
To make one, buy some assorted candy or treats and place them in a brown paper bag. Then, place a note or poem inside on how to pass along the boo bag. Finally, decorate the outside of the bag to your liking. After assembling, you drop off the bag on a friend's front doorstep. Make sure no one is home; the whole point is for the delivery to be anonymous. When you receive a boo-bag, you read the note provided. As each person gets a boo-bag, they keep passing along a new bag to different people.
As exciting as trick-or-treating may be, county officials declare that it is "not recommended." Along with trick-or-treating, the CDC has many other restrictions. Click the link to learn more about what is and is not allowed.
If celebrating in person is too much, Zoom calls are always a fun alternative. You can host virtual movie nights, Halloween costume contests, and fun Halloween games. This option is excellent for larger groups of people that want to celebrate, such as co-workers or large friend groups.
"As far as this moment in time, Halloween's still on in New Jersey," New Jersey Governor Phil Murphy tweeted. Go celebrate the fun holiday, but please do so safely!