Brownstone Pancake Factory: A Review
A few weeks ago, I had the opportunity to go to Brownstone Pancake Factory.
Specializing in giant milkshakes and pancakes, this restaurant has a huge amount of options to offer. Being shown all over Tik Tok, I knew I had to try out this trendy place.
There are currently two locations: Edgewater, NJ, and Englewood Cliffs, NJ. A third one is currently being added in Brick, NJ.
For drinks, my waiter recommended his special iced caramel latte. It came in a glass jar with a pile of whipped cream and a caramel drizzle. The drink looked super pretty; it was almost too good to drink!
As far as the taste, it wasn't too strong for a coffee, which is exactly how I like mine. Along with the coffee, our busboy brought out a gorgeous vase filled with water that we could pour ourselves. As a whole, the drinks were a superb way to start off the day.
For brunch, I decided on the "Honky Tonk Pancakes." It was a stack of pancakes stuffed with chocolate and peanut butter chips. On top was whipped cream, bananas, and a peanut butter-chocolate drizzle.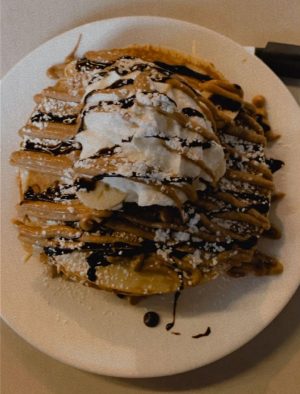 It was one of the most incredible meals I have ever had. The pancakes were super fluffy and large, the bananas were very ripe, and the whole thing tasted amazing.
The ratio of pancake-to-toppings was perfect, and from the whipped cream to the chocolate and peanut butter drizzle, all the toppings tasted incredible. Amazing as it tasted, it was also a super filling stack of pancakes.
My family and I also decided to try out some of the breakfast meats. We tried the bacon, pork roll, and turkey bacon. Our bacon was a pretty average piece; there wasn't anything too special about it.
The pork roll tasted homemade and wasn't too fatty or greasy. My personal favorite meat was the turkey bacon. It was a really smoky, flavorful piece that had a perfect consistency.
Overall, the staff at Brownstone was incredible. The hostess was super helpful and ran a super organized system, regardless of the crowd. When you go, I recommend asking for Jacob as your waiter. He was super funny and makes incredible iced lattes!
A downfall of the trip was the really long wait. My family and I waited about 45 minutes to get a table. To get a spot in line, a person in your party needs to approach the hostess, who will give you a number between 1-100 that you have to wait outside and listen for. When your number is called, it is your turn to be seated.
I would recommend this place to anyone who wants to try out a trendy brunch spot. If you are willing to wait a while, Brownstone will definitely hit the spot!