Young Thug's Punk review: an introspective masterpiece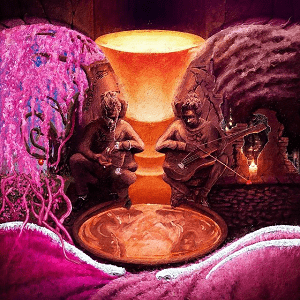 The reviewed album contains explicit content.
Young Thug, a defining artist in rap and trap music, is one whose creativity and versatility always shines through.
Young Thug's latest project, Punk, continues this legacy and shows why Thugger is such a widely respected artist throughout the music industry, receiving praise from the likes of Elton John and André 3000.
On this project, Thug mixes his signature trap sound with acoustic ballads while discussing his fame and rock star status. This project continues Thug's great track record, following phenomenal recent releases such as his album So Much Fun and collaborative studio album Slime Language 2.
The album starts with a track called "Die Slow," a deeply reflective song with a soulful guitar strung beat where Thugger reflects on his past and present. This song is almost hypnotic to listen to and perfectly draws the listener in to all this project has to offer. Audiences will notice that Thug comes at this album from a deeply introspective state.
It's not often that we see Thug in such a reflective state, but it's executed perfectly. While this album diverges from Thug's go-to trap bangers, they're replaced with emotional roller coasters, ranging from heartbreaking to beautifully hopeful songs.
This album starts out beautifully and is perfect for all listeners as Thug and his production team transcend genres, tying in Thug's regular trap sound with soft, relaxing guitar chords over soulful, lo-fi beats. Songs like "Stressed," "Recognize Real," "Contagious" and "Road Rage" exemplify this sound perfectly.
These songs, and many others, show Young Thug reflecting on his fame, what he wants in life, his past and his rockstar lifestyle. While we've seen Thug do this before on songs like "OD," "Climax" and "Worth It," Thug has never created a project as touching as Punk. Thug masterfully mixes themes of depression, heartbreak, hope and love, all culminating in a truly amazing and beautiful album showing that Thug is not an artist to be pinned down to one genre.
Songs "Livin It Up" and "Droppin Jewels" are definite standouts with strong chorus, good rapping and catchy beats. While many of the songs on this album diverge from the southern trap sound that made Young Thug famous, songs like "Scoliosis" and "Bubbly" return to these roots without compromising the overall mood and theme of the project. These songs will reassure Thug's original listeners that though his sound may have switched up, Thug is still the same hard-hitting artist from Atlanta that's not to be messed with on the mic.
If I where to have one complaint for this album, however, it would be the song "Icy Hot." While this song has phenomenal rapping from Doja Cat and Young Thug, the high pitched chorus can get very irritating and is reminiscent of nails on a chalk board, drowning out any potential this track had.
It's also worth noting that while this album has many features, not one of them is wasted. Featured artists include J. Cole, Post Malone, Gunna, Future and A$AP Rocky, as well as late artists Juice Wrld and Mac Miller, and they do not disappoint.
Production on this album is also top notch, with Young Thug bringing in the likes of beloved artists Wheezy, Pi'erre Bourne and Metro Boomin, who make every beat extremely memorable.
The album closes with gorgeous songs, namely "Love You More" as and "Day Before," a confusing song because while the song is rather relaxing and hopeful in its lyrical content, there's a sense of melancholy as late artist Mac Miller is featured. Miller supposedly recorded this verse a day before his death.
All in all, Punk is a phenomenal project that's worth a listen. Young Thug has proven once again why he's so successful with his fun rapping skills and creative versatility.
Final Rating: 8/10