In Taylor Swift's Red (Taylor's Version), colors are even more vivid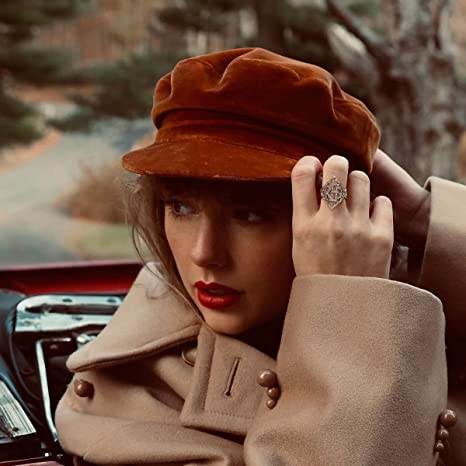 On Friday, Nov. 12, Taylor Swift released Red (Taylor's Version).
This is her 11th album and second re-recorded album. Swift has said that she will re-record her first 6 albums, to create new masters that she will have ownership of. This was the center of the controversy with her former record label, Big Machine.
In Red (Taylor's Version), Swift revisits the album that was characterized by its wide range of emotions. It is best encapsulated by a lyric in her song "22," "happy, free, confused, and lonely at the same time."
The album is a whopping 30 songs long, with nine "From the Vault" songs that did not make the album back in 2012. Two of the nine have been previously released, with Little Big Town featured on "Better Man" and Swift as a feature with Sugarland on "Babe." Here are the highlights from the vault.
The most anticipated song on the entire album was "All Too Well (10 minute version)." "All Too Well" has held a special place in the hearts of Swift's fans for almost a decade, widely considered to be one of her best songs. Rolling Stone's revision of their article "The 500 Greatest Songs of All Time" included "All Too Well" as number 69. Swift has previously confirmed that the song was originally 10 minutes long, and fans have been pleading for it ever since. They finally got their wish last week, and even an accompanying short film.
The 10 minute version was sure to include more heart-wrenching and powerful lyrics, and on that front it did not disappoint. The song provided a more reflective view on the relationship, widely considered to be regarding her 3 month 2010 romance with actor Jake Gyllenhaal. The original version paints a vivid portrait of deep heartbreak, of a girl still reeling from an intense breakup. The 10 minute version felt like a look back at the past and seeing every moment differently and more clearly.
This version showed Swift's pain in more specific ways. Fans learn that her ex did not tell her that he loved her until after the breakup: "he's gonna say it's love / You never called it what it was / Til we were dead and gone and buried / Check the pulse and come back / Swearing it's the same."
Swift also beautifully details how she cherished him more than he did her with the lines, "You kept me like a secret / But I kept you like an oath."
The most shocking lyric, however, was biting: "'I'll get older, but your lovers stay my age.'"
Swift has never been afraid to call out her exes, even name dropping them at times, and this song is no different. The lyric exemplifies all of the problems in the relationship that seem more evident with time. 
Where the 10 minute version falls short, though, is it's altered production. Swift teamed up with one of her favorite collaborators, Jack Antanoff. His production steered away from the rock sound of the first version, and opted for a more simplistic approach.
Absent are the electric guitars, and with them, some intensity. The exclusion makes the song a little less "scream-worthy." The phenomenal lyrics don't seem to have the same punch when they are layered over the newer, more raw instrumentation.
The characteristic drama is lost even further by Swift's new vocals. While her voice has improved immensely during her career, and that is clear in "All Too Well," it is evident that she is over this relationship. While it is completely unrealistic to expect that Swift can sing the song with the same vivid sadness and anger that she once did, the 10 minute version simply cannot top the original. 
Don't worry, not every vault track is as devastating as "All Too Well." "Message in a Bottle" and "The Very First Night" are upbeat pop songs that feel like a shot of serotonin. While the original version of Red is categorized as Country, it has its fair share of songs crossing into the Pop world such as "We Are Never Ever Getting Back Together" and "I Knew You Were Trouble."
"Message in a Bottle" and "The Very First Night" show Swift's yearning for the genre, back before she became the Pop princess of the decade. Were "Message in a Bottle" and "The Very First Night" excluded from the original album because of discouragement from Big Machine? Only Taylor can tell. 
If you thought that the album was done with the sad songs, think again. "Nothing New," featuring Phoebe Bridgers, shows Swift's struggle with getting older: "How can a person know everything at 18 /  But nothing at 22?"
The song reflects many women's similar belief in a deterioration of their success and appreciation. "Nothing New" would fit right in with "Mirrorball" and "This Is Me Trying" on her 2020 album, Folklore. 
If Fearless (Taylor's Version) wasn't proof enough, Swift has no issues with taking some playful jabs at past relationships. "I Bet You Think About Me," featuring Chris Stapleton, is a humorous country breakup song about a stuck-up ex.
It's lyric, "I bet you're just fine, fast asleep in your city / That's better than mine," is quite reminiscent of "We Are Never Ever Getting Back Together's" line, "Indie record that's much cooler than mine." 
In the vault, Swift takes fans back to an already spectacular album and one-up's herself, like she has done time and time again.