Delaware Valley blood drive surpasses donor goal
The annual National Honor Society blood drive officially returned to Delaware Valley Regional High School on March 22, 2022.
This year, 78 students, community members and staff met up in the Hutch Gym to donate a total of 63 units of blood to the Red Cross.
Of the 78 donors, five were Power Red donors, which means they donated double the amount of red blood cells and their plasma and platelets are returned to their bodies.
"In their statistics, that translates to helping out 189 hospital patients," said Tracy Miceli, a committee member of the blood drive.
The National Honor Society successfully hosted the blood drive with the help of the students and committee. Committee chairs Emily Kraynanski, Ellie McNamara, Gabrielle Pfefferle and Ms. Miceli met with a member of the Red Cross to help guide them through the process of setting up this year's event.
The Red Cross representative helped out by teaching the committee how to spread the word during Unit Lunch, answered questions and ultimately helped the committee plan its blood drive.
All NHS members had to contribute in some way. The committee sent out a Google Sheet and members picked out what way they wanted to volunteer. A few members ended up donating blood, but a majority of people donated snacks, streamers and utensils. Donor helpers stayed in the gym and comforted the donors, while the runners brought community members to the gym.
Ms. Miceli was checking people in for their time slots as they entered The Hutch.
Once the doctors were ready, they checked donors' stats to make sure they were eligible to safely donate blood.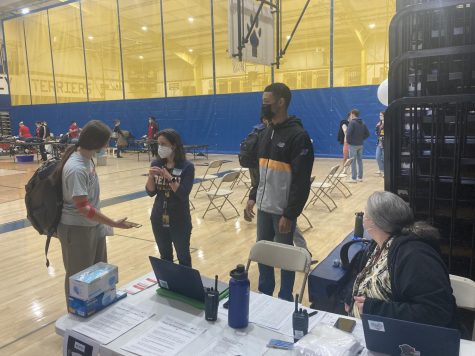 "We collected 134% of our goal," said Miceli. "Our goal was originally 47 units, and we hit our goal around 12:30."
The committee cannot believe how many students reached out to donate. Regardless of their eligibility, the committee was still proud of everyone who reached out to give blood.
Ellie McNamara, a member of the blood drive committee, explains "It's a very rewarding act, and especially now that there is a blood shortage because of COVID, donations and helping at blood drives are super important."
If you are a current freshman, sophomore, or junior, please try your best to donate blood next year. If you are ineligible, there are still many ways to help. NHS members has the option of donating sugary drinks and snacks for donors, and you can also work shifts throughout the day where you help the people after they donate blood by giving them drinks and snacks.
After a two year hiatus due to COVID, the community was quick to make up for lost time and donations.
"I loved seeing students that I didn't think would be donors. It was great to see community members come in and be able to donate and make the school like that community space again," said Miceli.