The legacy of the remarkable RBG
On Friday, September 18th, the world lost a powerful woman and a leader in the fight for gender equality. Supreme Court Justice Ruth Bader Ginsberg passed away in her Washington, D.C. home at the age of 87, after a reoccurring battle with pancreatic cancer.
Joan Ruth Bader was born into a working-class family in Brooklyn, New York in 1933. Growing up, her mother played a major role in her life, teaching her the importance of independence, especially for women. In 1954, Joan Bader graduated first in her class from Cornell University, where she majored in government. Unfortunately, her mother passed away from cancer before she could see her daughter graduate.
After graduation, Bader married law student Martin D. Ginsberg, and one year later, their daughter Jane was born. In 1956, Ginsberg enrolled in Harvard Law School (her husband was in his second year at Harvard), where she was 1 of only 9 women in the entirety of her class. Shortly after, Martin Ginsberg was diagnosed with testicular cancer, and Ruth Ginsberg cared for him and their young child while simultaneously taking notes for her husband's classes and continuing to pursue her own education.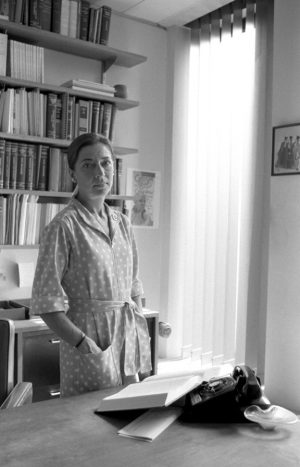 Eventually, after her husband recovered and joined a New York City law firm, Ginsberg transferred to Columbia University, where she graduated, tied for first in her class, in 1959. (Harvard refused to grant Ginsberg her degree if she spent her final year at Columbia, but she went anyway. However, in 2011, Ginsberg received an Honorary Harvard degree.)
But even with her impressive academic record, Ginsberg found it hard to find a law job due to her gender and her role as a mother. However, she soon accepted a position as a clerk under the U.S. District Judge Edmund L. Palmieri, and later became a professor of civil procedure at both Columbia and Rutgers' law schools. Ginsberg also worked for the Women's Rights Project of the American Civil Liberties Union, where she argued six landmark cases before the U.S. Supreme Court concerning gender equality, (and won five of them.)
In 1980, Ginsberg was appointed by President Carter to the U.S. Court of Appeals for D.C., where she served for a total of thirteen years. Then, in 1993 under President Bill Clinton, Ginsberg became the second woman in history to be appointed to the Supreme Court. Now, she is remembered as the longest serving woman justice in the nation's history.
As a justice, Ginsberg was known for being careful. Nonetheless, she tirelessly fought for the rights of women and workers, and the separation of church and state. Among her most notable achievements was United States v. Virginia, where she wrote for the majority that Virginia Military Institute's (VMI) admission policy, which accepted males only, was unconstitutional under the Fourteenth Amendment. Furthermore, she concluded that the proposed creation of a separate institution for "women only" was unacceptable, as it wouldn't hold women to the same academic and physically-demanding standards as at VMI, despite the fact that women cadets were just as capable as their male counterparts. In a 7-1 decision, the court ruled VMI's admission process to be unconstitutional, and the institution began admitting women in the fall of 1997.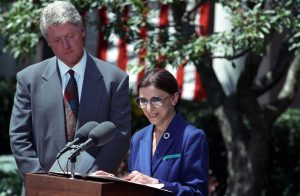 Ginsberg was also famous for her dissent in Bush v. Gore, in which she contended that the Supreme Court should have no say in the 2000 presidential election and that Florida should carry out its recount. However, in a 5-4 decision, the recount was halted due to time restraints, and Republican nominee George W. Bush was elected as the 43rd president of the United States.
More recently, in the 2015 Supreme Court case Obergefell v. Hodges, Ginsberg voted in favor of lifting the bans on same-sex marriage, and guaranteeing same-sex couples the right to matrimony under the Due Process Clause and the Equal Protection Clause of the Fourteenth Amendment.
In the same year, Ginsberg was among six other justices who upheld Obama's Affordable Care Act in King v. Burwell, which ensured that those who purchased health care through government exchanges would receive federal subsidies.
Here at Del Val, U.S. History teacher James Kluska describes Ginsberg as the strongest individual to ever serve on the Supreme Court. "Justice RBG was a champion of gender equality, civil rights, and liberties. America should be thankful, regardless of party affiliation, for the impact she has had in opening the doors of opportunity (justly so) for so many," he said.
Likewise, American Civilization teacher Susan Coles said of Ginsberg, "I always admired her ability to be humble and modest and found it fascinating that she could also roar like a lion when necessary."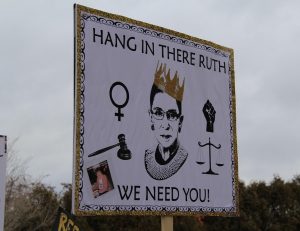 Looking forward, Ginsberg's passing has not only left an empty seat on the Supreme Court, but it has also done so in the midst of a Presidential election. Yet with the Republican Party still holding office, Senator Mitch McConnell has expressed the need for a speedy nomination in order to ensure a conservative majority. Some worry that this could potentially lead to the overturning of the landmark Supreme Court case Roe v. Wade, which protects a woman's choice on the issue of abortion. Additionally, it's unclear what this action would mean for other controversial issues.
While citizens can't predict who will replace Justice Ginsberg, or how it will ultimately affect our country, we can strive to follow in her footsteps as a nation. Because if there is one thing that Ruth Bader-Ginsberg has taught us, it's that you never give up fighting.
Your donation will support the student journalists of Delaware Valley Regional High School. Your contribution will allow us to purchase equipment and cover our annual website hosting costs.
About the Contributor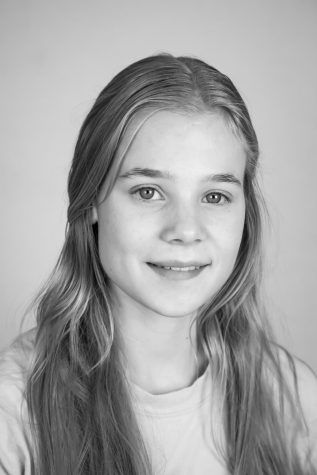 Clare Erwin, The Delphi Editor
Clare is a junior at Delaware Valley Regional High School and editor of The Delphi student newspaper. She's also a member of the award-winning literary...