Life as a COVID-era athlete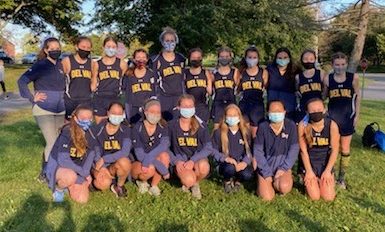 You're heading out to practice, grabbing your water bottle and a quick snack on the way, only to realize you forgot something: your face mask.
It's no surprise that sports, like most things, are a little different this year. As a varsity cross country runner, I've experienced firsthand many of the changes that high school athletes are facing nationwide. And as a senior, I understand their frustrations.
In September, as many schools opened their doors to students for the first time since the shutdown, fall sports were put on hold in order to allow for students and staff to adjust. But for athletes who attended practices throughout the summer, this rest period was a bit awkward since it meant taking a break from their sports for two weeks before returning for games or meets.
Now that the season is in full swing, there are certain protective protocols that each sport must adhere to. In terms of the changes cross country runners are seeing, talk of staggered starts are being discussed for larger meets, while smaller duel meets are becoming much more common. We've altered our own course here at Del Val, pushing the start line forward and marking where athletes can stand in order to properly distance themselves from their teammates and other runners. At the last minute before lining up, we take off our masks and seal them in plastic bags with our names on them. After the race, once we cross the finish line and catch our breathes, the masks go right back on.
NJSIAA guidelines do not require cross country athletes to wear masks while running, but it is expected that immediately after races we put them on, as well as keep them on for warmups, stretches, and team discussions. For this reason, we have resorted to carrying our masks with us or stuffing them in our jacket pockets for easy access. During the actual run, we try to space ourselves 6 feet apart at all times, though this can be difficult in tight spaces, where we're forced to resort to a single file. Nonetheless, we do our best to safely socially distance while practicing because we know the risks and consequences of not doing so. Is it inconvenient to have to carry a mask with you while running? Yes. Is it necessary for the health and safety of our team and our school? Also yes.
In other news, the NJSIAA recently announced that both Groups and Meet of Champions are officially cancelled for the 2020 cross country season. Besides for Sectionals, which is still scheduled to take place in mid November, these meets are the most anticipated of the season. This comes as part of the NJSIAA's "Model 1 – Delayed Fall Season" plan, which outlines the schedule for returning fall sports.
While COVID-19 has certainly put a damper on high school athletics, it isn't the "be all and end all" situation that many believe it to be. For athletes like myself and my teammates, the fact that we still have the opportunity to practice and compete in the sport we love is cause alone to be thankful. After all, I'd like to make the most of my senior year and final season at Del Val, and this year is undoubtedly going to be a memorable one.