'I Am Greta' Hulu premiere
On Nov. 13th, Hulu released I Am Greta, an original documentary centered around the 17-year-old Swedish climate activist Greta Thunberg. Directed by Nathan Grosmen, the film explores Thunberg's climate strike movement, "Fridays for Future," and the remarkable teenager behind it.
Overall, the documentary feels genuine, mostly because it truly is. Grossman began filming Greta in 2018, before her movement gained momentum, when he heard through a family friend about her plan to skip school to sit in protest outside of the Swedish parliament building. While he originally planned to use the footage in a film about young activists, Greta's unique personality, and her subsequent rise to fame, lead Grossman to instead work full-time on I Am Greta.
The film did a good job of showing what Thunberg goes through on a personal level, beyond the condescending and blatantly rude tweets, the scorn from world leaders and news co-anchors, and even the death threats her family has received. The most poignant moments in the film detail Greta's struggles with depression, disordered eating, and selective mutism. (For nearly two years in her early teens, Greta was unable to speak to anyone outside of her immediate family.)
There are also the moments that anyone in Thunberg's situation would relate to, as the stress of trying to change the world takes its toll. For instance, there is a scene when, on her way to speak at the U.N. Climate Action Summit in New York, Greta begins to cry, saying, "It's too much for me." Only sixteen at the time, Thunberg traveled the Atlantic Ocean in fifteen days on a completely wind-powered sailboat, in order to avoid the negative environmental impacts of airfare, to speak at the Summit.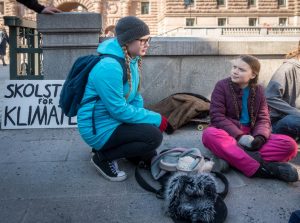 Moments like these give viewers a glimpse into the difficulties that go along with Greta's activism, and the unthought-of effects that it has on her. The amount of responsibility on Thunberg's shoulders is astounding, from single-handedly raising awareness about climate change to speaking out against those who choose to do nothing about it.
Yet Grossman frames Greta as anything but weak. Her bravery and resilience naturally come through in her words and actions, as well as in the way she approaches her mental illness. For example, Thungberg's Asperger's Syndrome, which she refers to as her "superpower," has allowed Greta to focus intensely on the issue of climate change and "see through the static."
The documentary doesn't just portray Greta as the serious teenager she is often seen as. I Am Greta is also a film about a passionate young woman, laughing and dancing around her house or enjoying the company of her two dogs, Moses and Roxy. "Those parts of her are definitely something many people haven't seen before," Grossman said.
However, the documentary was not without its flaws. For example, if Grossman was attempting to shed light on Greta's home life, it seems strange that her mother and older sister are rarely featured within it. Yet her close relationship with her father, Svante Thunberg, is displayed quite often, from him joining Greta on her trip across the Atlantic to him begging her to take a break to eat during one of her many climate protests.
It may be due to privacy reasons that we don't see more of the women in the Thunberg family, but whatever the reason, it's disappointing. There definitely could be more to explore in terms of how Greta's mother and sister have shaped her, and vice versa, how Greta has influenced them.
A larger issue with I Am Greta is its lack of emphasis on the subject of climate change and the science behind it. Of course, it makes sense that the documentary focuses on Greta's personal life and her unique character, but by neglecting to address the issue that Thunburg is fighting for, the film downplays the importance of the movement itself and loses sight of the context for her actions.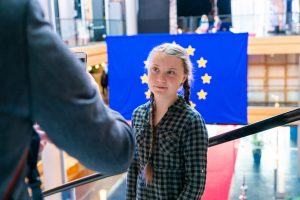 Ultimately, this is a criticism that extends beyond the film. Thunberg has made it very clear that she doesn't care what anyone thinks of her, and popularity isn't on her mind. Instead, she pours all of her energy into understanding the climate crisis our world is facing, and urging others to take immediate action.
It's probably exhausting and discouraging for Thunberg when people ask for selfies or hold posters with her name and face on them. Greta doesn't want you fighting for her, she wants you fighting with her. She wants you fighting for science, and she wants you fighting for the future.
If you are interested in this film, you can watch the official trailer here.