Off to Neverland: Del Val's musical season has begun
Last Monday, students in the theatre community at Delaware Valley Regional High School left the school building with thoughts of pirates and pixie dust filling their heads, with audition packets tucked safely beneath their arms.
Each student had been present for the show's unveiling moments earlier, where Jessica Severns, the director, revealed this year's musical to be Peter Pan. The overall reaction from the students appeared to be very positive.
"I'm really excited," said Jess McGlothlin (Wendy Darling), a freshman at Del Val. "I think it's going to be such a fun experience."
Peter Pan was originally a play written by J.M. Barrie in 1904 but later debuted on Broadway as a musical in 1954.
It is centered around a mischievous young boy named Peter Pan, who encounters Wendy Darling and her brothers, John and Michael, while traveling through London.
Peter offers to take Wendy and her brothers back to his home in Neverland, where they encounter several new characters and conflicts. This includes Tiger Lily and the Lost Boys, as well as Captain Hook and his pirates.
Peter and the Darlings' adventure unfolds throughout the show and is brought to life by the magical elements of Neverland.
One of these magical elements, which is most known for giving Peter Pan its sense of childlike wonder, is flying. Peter, along with some of the other characters, uses the magic of pixie dust to fly throughout the show.
The Del Val auditorium recently acquired a new projector, which will be useful in creating the effect of flight and movement across the stage.
Although Ms. Severns and her creative team are excited to bring these details to life, there are some concerns about the offensive elements in the original staging of Peter Pan. 
"I love Peter Pan the musical! It's super well known and fun," said Kailey Bredeson (Older Wendy/Neverland Native), a sophomore. "[Although], the cultural appropriation surrounding the Native American characters and dances is going to be hard to work with."
The original Broadway production and Disney film of Peter Pan are outdated in several aspects, including the select language used to describe the native tribes found in Neverland. However, Severns and her team are working to make the show more appropriate for modern audiences.
The native children on Neverland won't be depicted as Native American Indians, but simply as children of nature.
"Because they are children who live in Neverland, they don't wear normal clothing. They would get clothing pieces and articles from the space around them; from the foliage and the trees and the leaves," Severns said.
"
One of the things that we are stressing is that the world as we know it, currently, is not part of Neverland. Anything is possible in Neverland."
— Ms. Severns
This will allow for a more general depiction of the children, and will dispel any chance of cultural appropriation when creating the tribes of native Neverlandians onstage.
"One of the things that we are stressing is that the world as we know it, currently, is not part of Neverland. Anything is possible in Neverland," Severns said. "It's really about who you are as a person, because Peter Pan, when you boil it down, is about children playing."
The casting process for the show is being dealt with in a similar way, in which there are no boundaries when it comes to an actor's gender or physical appearance. Similar to the roles of the Lost Boys and the pirates, the role of Peter Pan can be played by a male or female student.
The directorial team selected this show for a specific purpose, hopeful that the fun, youthful tones of the show will bring success after two years of virtual performances due to COVID-19.
"Peter Pan has such a liveliness and sense of childlike wonder, which [we] felt the world was really lacking right now, " Severns said. "Things can be so serious and scary, and we wanted the opportunity for not only the students, but us as directors, to be able to have fun, be free, laugh and play."
Your donation will support the student journalists of Delaware Valley Regional High School. Your contribution will allow us to purchase equipment and cover our annual website hosting costs.
About the Contributor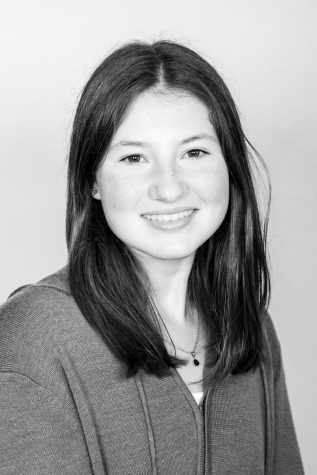 Julia Burchill, The Delphi Staff
Julia Burchill is a junior at Del Val and is an active member of the theatre community. She is also involved in several extracurricular activities, including...