Del Val has a new fall play director
Ryan Levy, The Delphi Staff, Class of '19
February 11, 2019
As many know, Miss Severns is popular for her English and public speaking classes, but this year, she'll be known for directing the fall play. The play was focused on the theme called "A Night Under the Stars." This year focused on two one-acts; the first was a drama called "Waylen" and the other was a comedy called "Drama Rehab Retreat." Both plays did not feature singing or dancing as Miss Severns feels that those aspects can be shown in the winter musical.
The first play, "Waylen," is about a group of teens who are trapped in a small town and are struggling to get out. Miss Severns feels that "Del Val kids should be able to connect to this" as Del Val is indeed small with (some) students feeling anxious to leave. Usually, the band has a role in producing music but not for this play. Also, Miss Severns says there will be no props as the play "really focuses on the actors."
Shifting from drama to comedy, "Drama Rehab Retreat" is about actors that can only play one role. Miss Severns said, "Somebody who's a superhero can only be a superhero, a villain is only a villain and all of these people come together and want to be something else." Miss Severns is confident that this will be "hilarious" with lots of people finding it enjoyable. With 17 roles in the comedy and 7 roles in the drama, Miss Severns has a very large cast. Compared to other plays at Del Val, Miss Severns feels that it's going to be "a different experience." The strengths of this play will be her cast because she feels (even though they don't admit it) they are very talented.
Miss Severns has always been involved in the theatre program, taking part in all of the musicals at Belvidere High School. She's always loved singing and dancing and feels the "theatre community to be a second home." After high school, Miss Severns went to Monmouth University and studied Education, English, and Theatre. Throughout college, Miss Severns participated in summer camps as a director, stage manager, and performing "behind the scenes work" as well. With her highly experienced theatre background, Miss Severns knows what it takes to make a high quality play.
About the Writer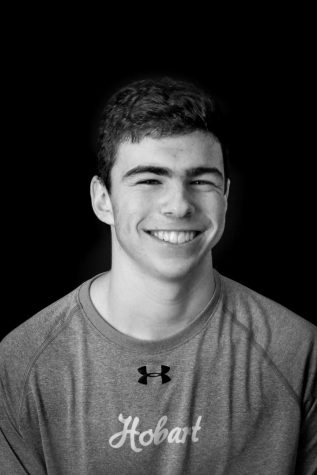 Ryan Levy, The Delphi Staff
Ryan Levy is a senior at Delaware Valley Regional High School. This is his first year with the Del Val Delphi and enjoys writing about current events as...