Fear Street Part Two: a cut above the rest
If you like actress Sadie Sink from Stranger Things, then you'll love her in Fear Street Part Two: 1978.
If you need a recap of Part One, click here.
Part Two starts off with Deena, Josh and the restrained and newly possessed Sam coming to C. Berman's house looking for help. Deena wanted to hear Berman's story of how she survived the massacre as well as if there is any way to stop the curse.
C. Berman then tells them the tale of the murder fest at Camp Nightwing.
The flashback starts off with Ziggy Berman getting accused of being a witch by her fellow campers, even though she isn't one, while her older sister, Cindy, is cleaning with her boyfriend, Tommy Slater.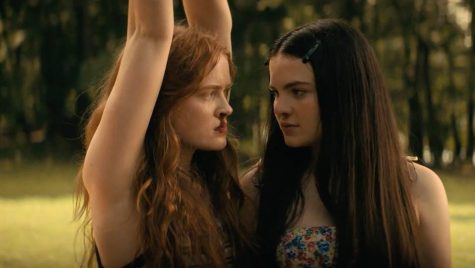 Out of nowhere, the Nurse of the camp, Nurse Lane, flips out and attacks Tommy saying that he will die that night. The teens believed she might have been possessed by Sarah Fier since the nurse's daughter, Ruby Lane, had been as well.
Cindy and Tommy both panic, but then decide to meet up with Alice and her boyfriend, Arnie.
Cindy then finds Nurse Lane's diary, as well as a map of Sarah Fiers' house. Of course, being curious teens, they head over to explore the house. However, upon entering the house, they unleash an evil that made Camp Nightwing a nightmare.
Personally, out of the three movies, this one is my favorite. The story, the gore, the fear, and of course Sadie Sink make this movie great.
Part Two is very similar to American Horror Story's season nine, 1984. They both have the summer camp setting, camp counselors who get into trouble, and a mysterious killer who can strike at any time. I really enjoy happy summer camp-gone-horribly-wrong type movies; I think it's the fact that something so horrible shouldn't happen in such a happy place that grabs my attention.
The story it tells is pretty interesting as well, but the story moved a little too fast. Everything starting going wrong about five minutes into the movie. I would have loved to see a little backstory of why Ziggy was accused of being a witch or even why she became so troubled, maybe even starting on why they were sent to summer camp.
On the gore scale, I would give it a 6/10. It's not too bad but still enough gore to make you go "gross." This film is probably not for the weak-stomached. If you can handle any of the Saw movies, you'll be perfectly fine with this movie.
I definitely recommend this movie for anyone who enjoys dark horror films or that summer camp movie setting.
Fear Street Part Two: 1978 was released on July 9, 2021. It stars Sadie Sink (Ziggy Berman), Gillan Jacobs (C.Berman), Emily Rudd (Cindy Berman), Ryan Simpkins (Alice), and McCabe Slye (Tommy Slater). The movie runs 1:50 and can be found on Netflix.
To learn more, read Fear Street Part Three:1666 here.