Best places to visit during Christmastime
December is finally here, which means it's time to start getting into the Christmas spirit.
Oftentimes, people wish to visit places that will bring out the holiday cheer in themselves. Why not visit some of the following gorgeous places that will be worth every penny you spend and every mile you drive.

The following list features places you can visit with friends, family, partners or anyone else you want to. They are great places to bring people together and even show family and friends who are visiting for the holiday season. 
The Rockefeller Christmas Tree has been one of the biggest Christmas traditions since 1933, but that's only when it became an official tradition. The purchase of the tree originally started in 1931, when a group of workers decided to pool their money together to buy a tree.

The tree is usually a Norway Spruce, and can be as tall as 100 feet. This Christmas tree receives about 125 million guests each year.
This year's Rockefeller Christmas Tree this year is 79 feet tall (24 meters) and is covered with over 50,000 colored lights, which is five miles of wire.
The star on top of the tree has 70 spikes, covered with 3 million crystals, and weighs almost 900 pounds. Daniel Libeskind, who designed this star in 2018, has said this star is inspired by "the beauty of starlight – something that radiates meaning and mystery into the world."
During World War II, the tree was decorated in red, white and blue to show respect to those fighting in the war. From 1942 until the end of war, the tree wasn't lit due to the blackout regulations that took place.

In 1999, the largest tree in the Center's history was revealed, a tree from Connecticut which stood 100 feet tall. 
The tree remains lit from 6 a.m. to 12 a.m.; on Christmas Day, it remains lit for 24 hours before returning to its normal schedule until New Years Eve, when it will only be lit from 6 a.m. till 9 p.m. The tree will stand until January 10, 2022.
Even if people visit it afterward Christmas, the tree will still be shining with all its glory, and it's definitely worth making the trip.
New York City is just an hour away without traffic, and there are also many other things to do in the city besides see this famous tree. You can go see the Rockettes or visit the largest Applebee's in the world just north of Times Square. 
Peddler's Village is another popular place to visit during the holiday season. Located in Bucks County, Pennsylvania, Peddler's Village has some of the best Christmas activities in the area. 
There are 1 million Christmas lights decorated across the village to celebrate the holidays. The light display lasts until January 8 and gives visitors a sight to see while they walk through the village. 
Peddler's Village is home to over 60 locally owned businesses that sell clothing, toys, candy, candles and more, which makes finding gifts for others easy and quick.

With multiple restaurants located throughout the village, Peddler's Village become the perfect place for friends and families to spend time together.
Bakeries are easy to find and popular during this season as well. Clusters Handcrafted Popcorn is famously known and liked during this season for its freshly made popcorn that comes in a variety of flavors. 
There are also holiday events throughout December and early January like gingerbread competitions, cookie decorating, bonfires and ice sculptures. Guests are able to take a New Year's Eve cupcake class that's offered at Sweet Occasions, where they will create a New Year's Eve Clock cupcake just in time for the New Year's holiday.
Gingerbread decorations line up against the barn walls at Red Barn, located on Street Road Green, where they sell delicious gingerbread cookies that are displayed and can be taken home by the guests.
With all the unique and fun holiday traditions that Peddler's Village offers, the holiday season can be easily enjoyed with family and friends.
Your donation will support the student journalists of Delaware Valley Regional High School. Your contribution will allow us to purchase equipment and cover our annual website hosting costs.
About the Contributors
Sadie Swanson, The Delphi Staff
Sadie is a Freshman at Del Val, and she enjoys playing volleyball on the school's team. Sadie loves reading, and her favorite book is Six of Crows. In...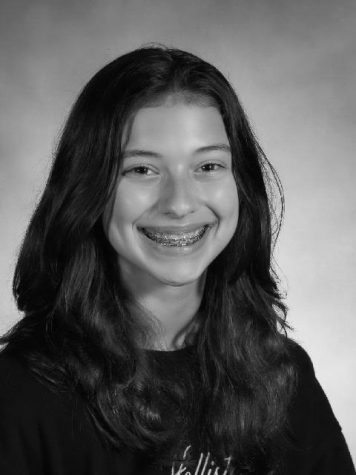 Abigail Bivona, The Delphi Staff
Abbey is a Freshman at Del Val. She enjoys playing volleyball and playing on the school's volleyball team. Abbey went to Kingwood, and this is her first...