The poet (and poem) that made history
At just 22, Amanda Gorman became the youngest inaugural poet in history last Wednesday, when she recited her poem "The Hill We Climb" at Biden and Harris' swearing in.
The tradition of inaugural poetry first began in 1961, when Robert Frost read his poem "The Gift Outright" at President-elect John F. Kennedy's inauguration. Next was Maya Angelou in 1993 at the inauguration of Bill Clinton, Miller Williams at Clinton's second swearing in, and Elizabeth Alexander followed by Richard Blanco for Obama in 2009 and 2013.
Joe Biden is now the 4th U.S. President to have included poetry as part of the inauguration process, yet it was his wife, Dr. Jill Biden, who recommended Gorman to the inaugural committee after hearing her speak at the Library of Congress.
"
But what I really aspire to do in the poem is to be able to use my words to envision a way in which our country can still come together and can still heal."
— Amanda Gorman
Gorman spoke with a passion unparalleled by past inaugural poets. She didn't just read the poem, but felt it, using her hands to emphasize every word. Gorman alludes to everything from to the struggles of quarantine — "We've learned that quiet isn't always peace" — to the political turmoil we are experiencing as a nation.
Additionally, her use of anaphora (the repetition of phrases at the beginning of lines), as well as her clever word plays ("…and the norms and notions / of what 'just is' / isn't always justice") engage the listener from start to finish.
And although written in free verse, Gorman doesn't shy from rhyming. In the poem's last lines, and perhaps its most memorable, she acknowledges that in order for us to see the good in our country, we need to spread that good ourselves. "For there is always light, if only we're brave enough to see it, / if only we're brave enough to be it."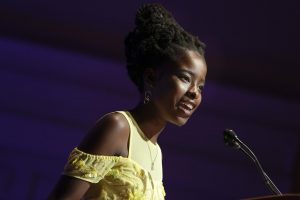 Gorman also noted that her poem wasn't yet completed when the events of January 6th unfolded at the Capitol, as evident in many of her lines. "We've seen a force that would shatter our nation, / rather than share it. / Would destroy our country if it meant delaying democracy."
Yet for every poignant truth exposed, Gorman offers an image of hope. She followed those lines with an even more powerful message: democracy may falter, but it cannot fall.
"In my poem, I'm not going to in any way gloss over what we've seen over the past few weeks and, dare I say, the past few years" Gorman said in an interview with the New York Times. "But what I really aspire to do in the poem is to be able to use my words to envision a way in which our country can still come together and can still heal."
Born in Los Angeles, Gorman was raised by a single mother alongside her twin sister and older brother. She says it was her mother, an middle school English teacher, who inspired her passion for education and poetry. As a child, writing song lyrics, which later transitioned into poetry, was not only a means of expression, but also a form of speech pathology.
Born with an auditory processing disorder, Gorman has struggled with a speech impediment for her entire life (much like President Biden himself.) She says she especially has trouble pronouncing the letter "R," but has made great strides in recent years by repeatedly reciting songs from the Broadway musical Hamilton.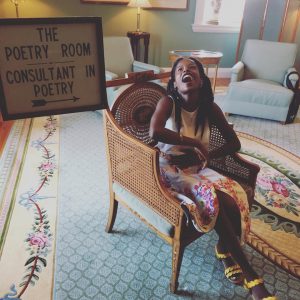 At age 15, Gorman began teaching workshops in creative writing at her mother's school. A year later, she founded One Pen One Page, a nonprofit organization and online magazine that offers similar programs in creative writing to students across the United States, as well as Afghanistan and Kenya.
In the same year, inspired by Pakistani activist Malala Yousafzai, Gorman became a United Nations youth delegate. Shortly after, in 2015, Gorman published her first collection of poetry titled The One for Whom Food Is Not Enough.
To add to her many accomplishments, Gorman received the Milken Family Foundation Scholarship her senior year of high school before going on to attend Harvard University as a Sociology major. In her sophomore year, Gorman was honored as the nation's first Youth Poet Laureate. She graduated Cum Laude in 2020.
After the inauguration, Gorman's newest work, The Hill We Climb is an Amazon No. 1 Best Seller, along with her children's book Change Sings: A Children's Anthem. Although both won't be published until later this year, they can be preordered here.
True to the words in "The Hill We Climb," Gorman's dream of running for President is still very much alive. "This is a long, long, faraway goal, but 2036 I am running for office to be president of the United States," Gorman said in a 2017 New York Times interview. "So you can put that in your iCloud calendar."
Until then, the young author and activist will have to be content as one of the most talented and influential poets of our time.
Your donation will support the student journalists of Delaware Valley Regional High School. Your contribution will allow us to purchase equipment and cover our annual website hosting costs.
About the Contributor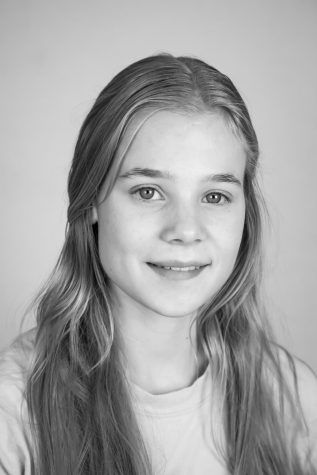 Clare Erwin, The Delphi Editor
Clare is a junior at Delaware Valley Regional High School and editor of The Delphi student newspaper. She's also a member of the award-winning literary...