Staying home in style: Dropkick Murphys live from your sofa
Although most St. Patty's Day festivities were put on hold this year due to the Coronavirus outbreak,  one band is making the most of the situation.
The Dropkick Murphys, a Celtic punk rock band known for their songs "Shipping up to Boston," "Rose Tattoo," and "Going Out In Style" kept the Irish spirit alive last Tuesday with their annual St. Patrick's Day concert. However, there was something different about this particular performance: for the first time in their 24 years of playing, the band had no audience.
In order to ensure the safety of their fans, the Dropkick Murphys decided to postpone their week-long "Boston Blowout," a tradition that has become synonymous with the band and the holiday itself. Instead, at 7 p.m. ET on March 17th, they performed in an undisclosed Boston location, and live streamed the full-length concert for their fans to watch via YouTube, Instagram, and Facebook Live.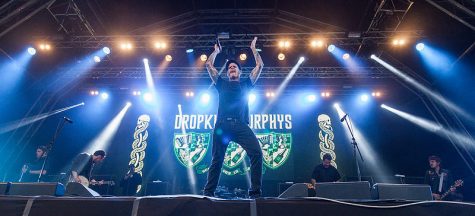 "Streaming Up From Boston," the official name of the free livestream, also featured three new singles from their upcoming album, which will be released this September. Additionally, all postponed shows will also be rescheduled for September, with refunds available.
In an interview with Billboard's Hillary Hughes, lead singer Ken Casey said "The only silver lining I can say is that at least we can do this. Who knows? In another week we may not even be able to do this. We do have to get 12, 13 people together to do this, so the silver lining would be that there's still music. Music is always a good escape. We'll try to take peoples' minds off the situation for 90 minutes."
Casey also made the decision to temporarily close down his two restaurants, one named McGreevey's located in downtown Boston, and a taco restaurant known as Yellow Door Taqueria in Dorchester.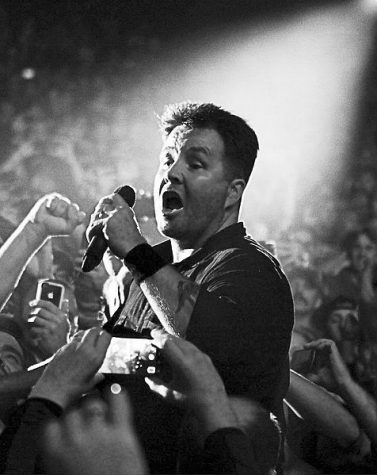 The Massachusetts-based band actually got its start on a dare, when a co-worker of Casey's bet him $20 to open for his own band. Sure enough, Casey got together with his friends, wrote a few songs and practiced a few covers, and played for 30 minutes. Now, over two decades later, the Dropkick Murphys are one of the most famous Irish punk rock groups of all time.
Among the merchandise they are selling, (including T-shirts that read "March 17- my living room" on the back), the band is also asking for donations to The Claddagh Fund, the official charity of the Dropkick Murphys. Established in 2009, it's goal is to help those in need, including children, veterans, and those suffering from alcohol or drug addictions by raising money for underfunded charities. The charity gets its name from the Claddagh Ring, a traditional Irish ring which symbolizes friendship, love, and loyalty. At this time, all donations to The Claddagh Fund will go to the city of Boston's Reciliancy Fund, which supports families affected by the Coronavirus.
According to a tweet made by the Dropkick Murphys earlier this week, "The current world situation is the ONLY thing that would ever stop us from doing so [performing on St. Patrick's day weekend]…The show must go on."